UPDATE
Phoenix officer accused of sex with teen boys
Posted:
Updated: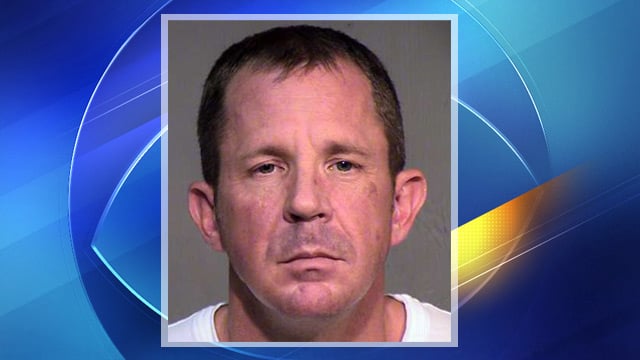 Phoenix Police Detective Christopher J. Wilson
PHOENIX (CBS5) -
A Phoenix police officer has been arrested and faces several felony charges of sexual misconduct with two teenage boys.
At a news conference on Wednesday, the Maricopa County Attorney's Office said they are adding an additional charge of sexual misconduct against Detective Christopher J. Wilson.
Phoenix Police Chief Daniel Garcia said 43-year-old Wilson, a community action officer who was the city's police liaison with the lesbian, gay, bisexual and transgendered community, was arrested at his residence.
Garcia said the alleged victims were 14- and 17-year-old Phoenix boys who knowingly entered into a relationship with Wilson. He said Wilson met them through his job as a community outreach officer.

Police said they learned of the relationship when the 14-year-old came forward earlier this month.
The initial court paperwork alleges Wilson and the 17-year-old boy engaged in sexual contact at Wilson's residence and that all three engaged in sexual contact at the apartment of the 17-year-old.

Garcia said Wilson had been carrying on the relationship with the older teen for three months and with the 14-year-old for three weeks. Wilson told police investigators he knew the boys were underage, according to court document.
"As a father of two, my heart goes out to the victims and their families," said Phoenix Mayor Greg Stanton in a statement released Wednesday morning. "A crime against a child is horrible and unimaginable on its own, but when someone of authority you trust is the suspect, it becomes something far worse.

"Detectives worked quickly to solve this case, apprehend and arrest the suspect, and the investigation is ongoing," Stanton said. "I have faith that our officers and our new Chief Daniel V. Garcia will work to make sure justice is done. The act of one officer does not reflect on the police department as a whole."
Wilson was a 13-year veteran of the force and resigned in lieu of being fired. He is not eligible for retirement, Garcia said.
Stay with cbs5az.com and CBS 5 News as this story develops.
Copyright 2012 CBS 5 (Meredith Corporation). All rights reserved.