Cross country ride honors military and their sacrifices
Posted:
Updated: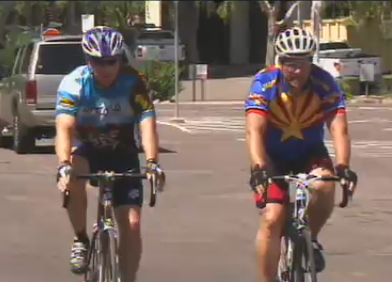 PHOENIX (CBS5) -
Cyclists the United States and Australia are taking part in a charity ride called the Tour of Duty Ride 2012.
The 24 cyclists, 12 from the U.S. and 12 from Australia, will ride more than 2,500 miles across the country from San Diego to New York City.
Their ultimate goal is to reach New York by Sept. 11.
Part of this ride is to acknowledge the service of the military and the sacrifices they've made since 2001.
Three of the riders taking part in the race are from Arizona.
"The Australians and the United States have shared a common bond in military for decades. In history they have always been with each other, side by side, through all kinds of conflict," explained rider Greg Hawk.
The group will ride through 20 states and will make stops and pay their respects at sites of major catastrophes.
When they pass through Phoenix on Aug. 15, they'll hold a fundraiser at Westgate.
Copyright 2012 KPHO (Meredith Corporation). All rights reserved.