UPDATE
Loughner pleads guilty to Tucson shooting
Posted:
Updated: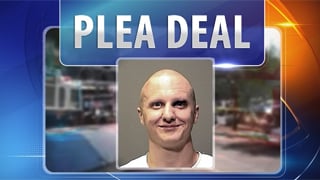 Jared Lee Loughner
TUCSON, AZ (CBS5/AP) -
Jared Lee Loughner has pleaded guilty to going on a rampage in Tucson that left six dead and wounded then-Congresswoman Gabrielle Giffords and 12 others.
Loughner listened calmly and without expression while a court-appointed psychologist told a judge he was competent to plead guilty.
Loughner's arms were crossed over his stomach, and he looked straight at Christina Pietz as she testified for an hour.
At one point he smiled and nodded when Pietz mentioned he had a special bond with one of the prison guards.
Loughner's plea Tuesday allows him to avoid the death penalty in a mass shooting that gained worldwide attention in January 2011 because his intended target was the congresswoman. Among the dead were Arizona's chief federal judge and a Giffords' aide.
Federal Judge Larry A. Burns had found that Loughner was mentally unfit to stand trial. He ruled on Tuesday that months of forcibly medicating him to treat his schizophrenia made him competent to understand the gravity of the charges against him and assist in his own defense.
Under terms of the plea agreement, Loughner is expected to be sentenced on Nov. 15 in Tucson to seven consecutive life sentences, followed by 140 years in prison, with no possibility for parole.
"In making the determination not to seek the death penalty, I took into consideration the views of the victims and survivor families, the recommendations of the prosecutors assigned to the case, and the applicable law," said Attorney General Eric Holder.
Congressman Ron Barber, Giffords' former district director who was wounded in the shooting, said after Tuesday's proceeding, "What happened on that terrible day was an aberration that does not define us as a community."
"I truly believe justice was done today," Barber said.
Another speaker who stepped up to the microphones after the court proceeding was U.S. Attorney John Leonardo. "Given the defendant's history of significant mental illness, this plea agreement, which requires the defendant to spend the remainder of his natural life in prison, with no possibility of parole, is a just and appropriate resolution of this case."
The plea deal drew other reactions. "Today, we remember the victims and their families who tragically lost their lives on January 8, 2011, as well as those in the Tucson community who were greatly affected by this senseless tragedy," said FBI Special Agent in Charge James L. Turgal, Jr., Phoenix Division.
"With the change of this plea, Jared Loughner will never be able to harm the Tucson community or any other community ever again," Turgal said.
Copyright 2012 Associated Press. All rights reserved. CBS 5 (Meredith Corporation) contributed to this report.