SEE THE BACK STORY
AZ awarding certificates for pot dispensaries
Posted:
Updated: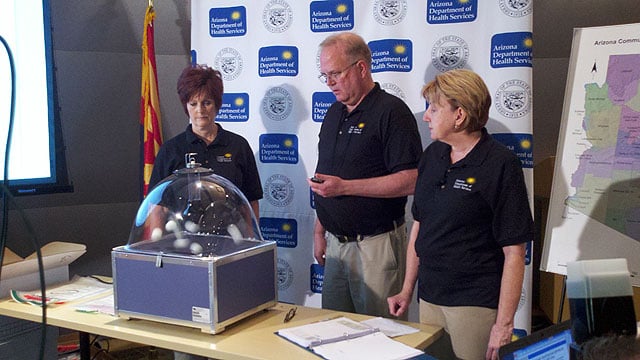 (Photo: Sean Gates / CBS 5 News)
PHOENIX (CBS5/AP) -
State officials have started picking winners for nearly 100 certificates to run medical marijuana dispensaries in what is a key implementation step for the voter-created health program.
The process is like those used in bingo games, with a machine with air-blown balls randomly selecting winners for districts around the state.
The Department of Health Services said 486 applications were submitted for the 126 dispensary licenses and that 432 met required qualifications.
However, some districts only have one applicant and others have none.
The first applications chosen in Tuesday's drawings were one each in several dispensary districts for Mohave County.
An applicant who got a certificate told CBS 5 News off camera Tuesday that he filled out more than 300 pages of strict applications to get this far and that he still has months of paperwork to complete before he can open his doors. He also said he plans to have a security guard on-site 24/7.
"As long as they have a card and they are a card holder, I don't see any reason why it's a problem," Anthony Viloria said.
"We have done without it for a long time and I think we can continue to do so," David Levey said.
Thousands of individuals already have state permits to use medical marijuana, but they've had to grow pot or get it from other permitted individuals pending the establishment of dispensaries.
In order to ensure dispensaries are not clustered in urban areas and to provide access to qualifying patients in rural areas, the state Health Department allocated the dispensaries according to the Community Health Analysis Area system. There are 126 CHAAs throughout the state, and each will be allocated one dispensary.
State officials decided to move forward with licensing the dispensaries even as 13 county attorneys have urged Gov. Jan Brewer to halt the process. Brewer didn't want to authorize dispensaries, but her administration is proceeding after losing several court fights.
Copyright 2012 Associated Press. All rights reserved. CBS 5 (Meredith Corporation) contributed to this report. All rights reserved.