Arizona firm puts cameras on school buses in some states
Posted:
Updated: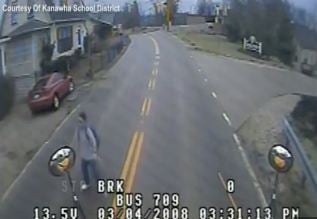 TEMPE, AZ (CBS5) -
It looks like Tempe-based American Traffic Solutions isn't just in the business of red-light cameras anymore. They're now in the business of cameras on school buses.
The Valley company, which provides red-light camera systems, is now putting its technology on school buses in an attempt to prevent cars from passing them when they're picking up and dropping off kids.
Seven states passed laws in 2011 to allow cameras on school buses, and even though it hasn't happened Arizona yet, it could become a hot-button topic at the state Capitol.
"More than 1,400 times a day drivers illegally run the stop arm," said Charles Territo with American Traffic Solutions.
It's a problem all across the U.S. - drivers illegally passing buses with their stop signs extended. So what is American Traffic Solutions doing about it? Well, it has installed cameras on buses.
"There's a sensor on the side of the bus. That sensor detects once the stop arm is deployed, whether or not a vehicle passes the stop arm," Territo said.
The cameras capture images and videos of a car illegally passing a bus. Someone then looks at them to see if the driver broke the law and if it's deemed they did, the evidence is sent to police. Right now Maryland, Georgia, Florida and Texas are using the technology.
Although their red-light cameras have come under scrutiny, everyone CBS 5 News spoke with gives this program a thumbs-up.
"If I didn't have a kid in school that rides the bus, I might think different, but I do and I'm all for it," said one man.
"I think that this program would actually be very helpful," Idella Hamilton said.
"I think it would be a very good idea," Maria Saenz said.
If the state Legislature decides not to touch the issue in the future, individual cities can always add ordinances allowing the technology on school buses within their jurisdiction.
Copyright 2012 CBS 5 (Meredith Corporation). All rights reserved.