UPDATE
Arpaio's Tent City troubles
Posted:
Updated: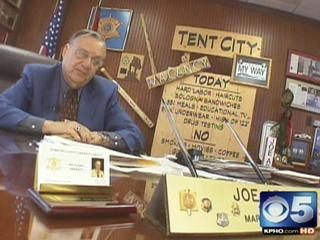 PHOENIX (CBS5) -
Maricopa County Sheriff Joe Arpaio celebrated Tent City's 19th anniversary Friday.
Arpaio brags about the politicians, celebrities, national and international media who have toured the facility. And he calls it a successful program.
Arpaio could not cite statistics, but said he believes Tent City acts as a deterrent for reoffending.
"Mother's say, 'thank you sheriff. My kid hates your tents. He will never come back.' That's music to my ears," Arpaio said.
But since it opened in 1993, Tent City has had its share of problems.
From a jail riot, to allegations of abuse and mistreatment, the jail has been a lightning rod for controversy.
In the summer, the temperatures in the tents can rise to more than 125 degrees. But the truth is regardless of the heat, some inmates prefer the tents to a walled jail.
Teresa Neil is on her second stint in the tents.
"We have work opportunities. We can work inside, we can work with the animals, we can work with laundry. You don't have to be outside," Neil said.
Her tentmate Sherryl Arber agreed.
"Nobody likes being in jail. I hate it here. I want to go home so bad. But it's better out here than in there," said Arber pointing to Estrella Jail right next door.
Arpaio said he is proud of everything that has taken place over the past 19 years at Tent City. He proudly admitted there have been very few problems, even though there was one large scale riot.
That took place in 1996. Hundreds of inmates rioted and tried to set the place on fire. They held correctional officers as hostages for nearly three hours until they were granted a face to face meeting with Arpaio.
There have also been a couple of jail deaths at the tents.
In 2003, Brian Crenshaw died after what was determined to be a beating by jail guards. His family sued and was awarded $2 million.
That same year, Phillip Wilson was serving two months for a non-violent offense and was attacked, beaten and killed by white supremist gang members. A suit was also filed in that death, but MCSO was not held responsible.
"When you have an inmate sometimes kill another inmate, that happens everywhere," Arpaio said.
Male inmates, like Ralph Andaverde, said inmate on inmate fights happen all the time.
"That happens here regularly. I mean usually, but there's nothing you can do about it," Andaverde said.
Just this past June a huge demonstration took place outside Tent City to protest the inhumane conditions inside.
"I think it is inhumane. Yeah, I believe it is," Andaverde said.
Arpaio strongly disagreed and responded the way he has for years.
"I slept in here. We got men and women fighting for our country sleeping in tents. Why is it inhumane?"
Copyright 2012 CBS 5 (Meredith Corporation). All rights reserved