UPDATE
Arrest made in Phoenix officer-involved shooting
Posted:
Updated: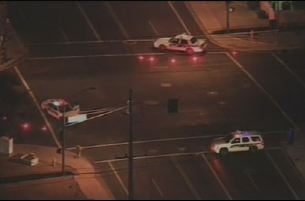 PHOENIX (CBS5) -
Police have identified the suspect they believe shot at a Phoenix officer in August.
Phoenix police spokesman Officer James Holmes said the officer was on patrol in the 2100 block of East Roosevelt on Aug. 2, when he tried to stop a man riding a bike with no headlight.
Holmes said the officer fled at 2200 E. Portland and when the officer caught the suspect the suspect pulled out a semi-automatic pistol and pointed it at the officer. The officer fired four rounds at the man and the suspect then opened fire on the officer as he ran through a neighborhood and got away.
The officer was not hurt.
The suspect's shirt had been ripped off during a fight and DNA from the shirt matched 25-year-old Amado Torres Jr.
Torres was in custody on unrelated burglary charges and when interviewed by police, he admitted to the incident.
Torres now faces charges of aggravated assault on an officer and being in possession of a weapon.
Copyright 2012 CBS 5 (Meredith Corporation). All rights reserved.