UPDATE
Sons of AZ helicopter crash victim share memories of their dad
Posted:
Updated: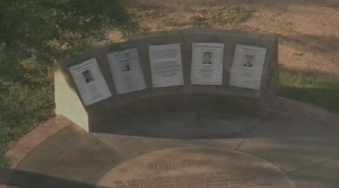 This memorial was created in Steele Indian School Park to honor the victims.
PHOENIX (CBS5) -
It has been five years since two news helicopters crashed in the Phoenix area, killing four Valley journalists.
The news helicopters were covering a police pursuit when they collided above Steele Indian School Park.
Pilot Craig Smith and photographer Rick Krolak from Channel 15 died in the crash, as well as pilot Scott Bowerbank and photographer Jim Cox from Channel 3.
CBS 5 News spoke to Krolak's sons, Eric and Colton Krolak, the day of the anniversary.
"The thing he'd want us to remember about him is that he was a person who was so full of life and that this shouldn't be a solemn day," Colton Krolak said.
Rick Krolak's passing is still fresh in Colton Krolak's mind. He said it's a little easier to cope but his dad is always on their mind.
"He was a character too. He could make anyone laugh. He could always have a story to make someone laugh no matter what," Erik Krolak said.
The late journalist's family said they try to commemorate their father's death every day.
"We're trying to live a life that he'd feel proud of us for living," Colton Krolak said, "But today... like anniversaries of his death and his birthday, we'll go out to the park. Usually our brother will be there and we'll either go out to lunch, but we like to spend the day with our dad."
The family uses the memorial at the park as a place to pay their respects because they don't have a grave site.
Erik and Colton Krolak also try to pay their respects by their career choices. Erik Krolak tried out as a helicopter pilot a year ago. Colton Krolak is studying journalism at the Walter Cronkite School for journalism.
"Dad always told me to stay away from journalism," Colton Krolak said, "But I didn't think I could, especially after this and it's something that I've really liked so far."
Copyright 2012 CBS 5 (Meredith Corporation). All rights reserved.