UPDATE
6 dead in Rocky Point gun battles
Posted:
Updated: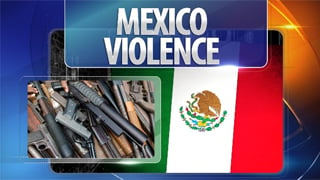 © CBS 5
ROCKY POINT, MEXICO (CBS5) -
Six people, including a police officer, died in gun battles that erupted in Rocky Point last week, according to Sonoran state police.
The shootings happened Thursday around 6 p.m. along one of the beach town's main streets.
Police responding to a report of gunfire between two groups at a place called El Ovalo near the city's sports complex found three apparent gunmen dead, according to Sonoran state police. Three weapons were seized.
On Fremont Boulevard, a gunman emerged from a pickup truck and started firing on police, according to the report. Police shot and killed the man, but as the pickup sped off, three people inside the vehicle began firing, hitting three officers and killing at least one, police said.
At a separate nearby location, officers said they found another man shot to death who apparently had taken part in the original shootout.
No other information about the shootouts was available.
Copyright 2012 CBS 5 (Meredith Corporation). All rights reserved.