SEE THE BACK STORY
AZ part of DEA's nationwide bath salts crackdown
Posted:
Updated: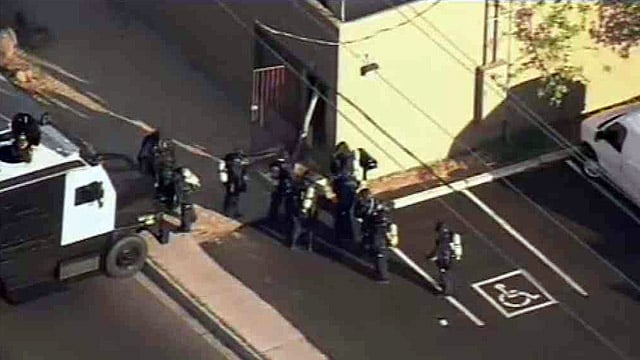 PHOENIX (CBS5) -
Arizona was among the states involved in the Drug Enforcement Agency's first ever nationwide law enforcement action against the synthetic designer drug industry.
"The investigation has been going on for quite a while," DEA Special Agent Doug Coleman explained.

Investigators began executing a series of search warrants in Arizona on Wednesday, the DEA said.
The first of the warrants was served in Phoenix near 16th Avenue and Hatcher. Mesa and Phoenix police, along with a SWAT team, assisted with the search.
Sources told CBS 5 News that Michael Rocky Lane, owner/operator of the website Wicked Herbal, as well as Dynamic distribution, which was a target of the local investigation, is in federal custody in connection with the nationwide crackdown.
At least four others were also arrested in the Phoenix area. Some of the bath salts confiscated had warning labels on them that said purchasers should not ingest the material. However, Coleman said warning like that do not make selling the products legal.
"You can't market your substance as something that's going to get you high and think you're going to get out of jail because you mark it as 'not for human consumption,'" Coleman said.

More than 90 people were arrested across the nation and $36 million in cash seized. Investigators said they took in 19 million packets of synthetic drugs, like bath salts, spice and incense.
"The criminal organizations behind the importation, distribution and selling of these synthetic drugs have scant regard for human life in their reckless pursuit of illicit profits," said Acting Director of ICE's Office of Homeland Security Investigations James Chaparro.
Operation Log Jam was conducted jointly by the U.S. Drug Enforcement Administration and U.S. Immigration and Customs Enforcement, with assistance from the Internal Revenue Service Criminal Investigations, U.S. Postal Inspection Service, U.S. Customs and Border Protection, FBI, Food and Drug Administration's Office of Criminal Investigations and countless state and local law enforcement members in more than 109 U.S. cities.
Copyright 2012 CBS 5 (Meredith Corporation). All rights reserved.