Blowing dust, dust storm or haboob?
Posted:
Updated: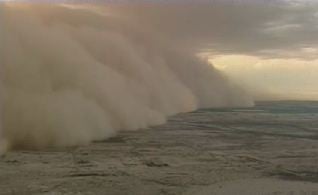 Haboob rolling in south of Phoenix
PHOENIX (CBS5) -
Whether it's the funny name or the amazing visuals it creates, the haboob is the granddaddy of dust storms.
Not every dust storm is a haboob, just like every tropical storm isn't a hurricane.
"I think what's going on is that we've had a higher frequency of stronger dust storms over the last couple of years and the term has been in play much more because of that," said Ken Waters of the Phoenix National Weather Service office.
We often hear from folks who say they've lived here a long time and have never heard the term "haboob" until recently.
Waters said that meteorologists have been using the term for more than 30 years here in the Phoenix area.
Understanding how these massive walls of dust form is actually pretty simple.
With a lack of rain, all that loose dust and sand is kicked up and suspended in the air courtesy of gusty outflow winds generated by distant monsoon thunderstorms. The resulting wall of dust can then travel 100 miles in distance and be 50 miles in length.
As far as the term "haboob," it's derived from the Arabic word "habb," which means "wind."
Many weather terms, like tsunami, derecho and even monsoon, are also derived from other languages.
Copyright 2012 CBS 5 (Meredith Corporation). All rights reserved.