SEE THE BACK STORY
Suspect's photo released in theft of girl's cancer donation jar
Posted:
Updated: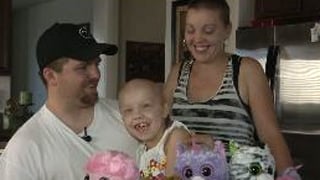 The Clark family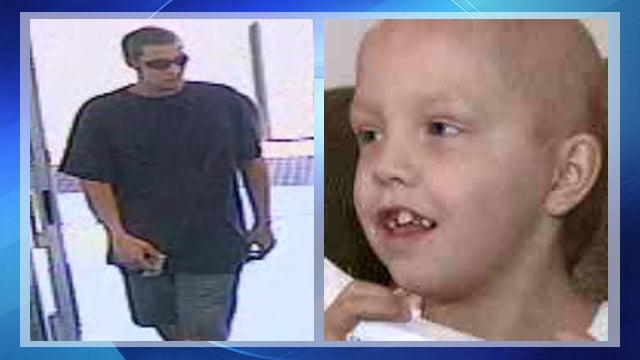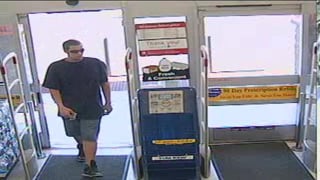 Image from surveillance video
SAN TAN VALLEY, AZ (CBS5) -
A San Tan Valley criminal has taken crime to a new low after police said he stole a little girl's cancer donation jar from a Valley Walgreens store.
The Pinal County Sheriff's Office released a surveillance photo Tuesday evening of the suspect as he entered the store on Saturday.
The Clark family in San Tan Valley loves spending time together, but their life took an unexpected and tragic turn in early May of this year when their 7-year-old daughter, Dakota Clark, was suddenly diagnosed with a rare form of cancer called Burkitt's lymphoma.
"The treatment is so extensive that the side effects are brutal. As you can see, she lost her hair right away," said Dakota's father, Jason Clark. "Mouth sores are really, really, bad."

The cost for medicine alone to treat Dakota is outrageous.
"This box of medicine, I believe, was like $4,300," Dakota's mother, Kim Clark, told CBS 5 News as she showed a small vial of liquid. "For 14 shots."

Jason Clark described the financial burden as "a lot of pressure."
"I went through my savings and my 401(k)," he said.

So the Clark family decided to drop off about a dozen donation jars around the area, and one of those locations was at a Walgreens store in San Tan Valley.
"We kind of consider the donations bins food money," Jason Clark said.
So you can imagine the family's surprise when they found out what happened Saturday.
"You're not going to believe it. Somebody actually stole it," Jason Clark said.
Kim Clark said the jar was about half full of "dollars and change."
A grown man was caught on tape stealing Dakota's cancer money, and now the family wants the public's help to find him.
"If this guy is willing to do this with a 7-year-old with cancer, what else is he willing to do?" asked Jason Clark.
The Clark family said the suspect was a white man with long dark hair, between 25 and 35 years old and about 6'2" tall and approximately 250 pounds.
Sheriff's investigators said evidence in the video shows the suspect likely knew where the container was located and entered the store with the purpose of taking it.
You can find out more about Dakota on her website by clicking here or you may donate to the Clark family using a Chase bank account under the number 3018891308.
Copyright 2012 CBS 5 (Meredith Corporation). All rights reserved.