UPDATE
Pearce apologizes for Facebook post on theater shooting
Posted:
Updated: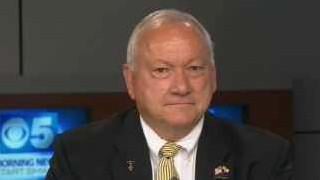 Russell Pearce
PHOENIX (CBS5) -
In the aftermath of the Colorado mass shooting, several politicians released statements offering their condolences to the victim's families. Former Senate President Russell Pearce did as well, but it's what he typed after that on his Facebook page that has many shaking their heads.
Monday night, he apologized.
Pearce's Facebook post relayed a personal story of a friend of the family who was in the theater in Aurora, CO when the shooting started.
He called the situation heartbreaking. In the post that he has since taken down, Pearce went on to say, "had someone been prepared and armed, they could have stopped this bad man from most of this tragedy. Where were the men of flight 93? Someone should have stopped this man. Had they been prepared to save their lives or the lives of others, lives would have been saved. All that was needed is one courageous/brave man prepared mentally or otherwise to stop this, it could have been done..."
There were many acts of extreme bravery and heroism on the part of the people in the theater. Men reportedly died shielding their loved ones from bullets.
No one tackled the shooter or fired a gun back.
"I think the recipe that [Pearce] calls for, which is, number one, for more people to be armed and number two, to have used their weapons in that crowded, dark movie theater, I think that's a recipe for disaster," Steven Adelman said.
Adelman is a venue safety expert at Adelman Law in Scottsdale.
"The obvious result when you have lots of people firing away is crossfire. And what we know from Aurora, is the shooter, the bad guy, was not only wearing all black but was heavily armed with body armor, which distinguished him from everyone else in the movie theater," Adelman said.
Pearce did not return calls asking for clarification on his comments.
He did briefly post that he never intended to criticize the victims or survivors.
Monday night, Pearce issued this statement on his Facebook page:
"There comes a time when explaining stops making sense and you are better off simply apologizing. So for those who were offended by my post regarding the shootings in Aurora, please accept my apologies. When I wrote it my heart was heavy and we were concerned about the fate of one particular young lady who we knew was at that theater that night. The points I tried to make were not presented well and have since been lost in the furor that resulted.
"The most important thing, now as then, is that our thoughts and prayers remain with the victims, their families and all of those effected. There were great acts of courage in that theatre and our hearts have been moved to hear about them, like the stories of three young men who had taken their dates to the movies and ended up sacrificing their lives by shielding their girlfriends' bodies with their own; what love, sacrifice and courage. My wish was simply for a miracle that might have saved lives in this horrific senseless attack.
"I will never understand policies that disarm honest citizens and leave them vulnerable to the premeditated attacks of madmen, but it is still far too early for any sort of discussion over how to prevent the next such attack. When that time comes, we need to involve not just those involved in the debate over guns and public safety, but over mental health as well. We need to find out if there are better ways to be able to spot and help someone whose mental state is deteriorating as badly as this young man's did.
"For now, I remain very sorry for my remarks and any possible pain they may have caused."
Copyright 2012 CBS 5 (Meredith Corporation). All rights reserved.