SEE THE BACK STORY
Neuroscientist weighs in on CO shooting suspect
Posted:
Updated: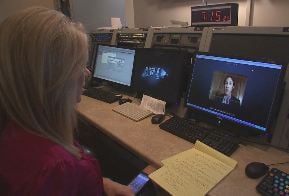 PHOENIX (CBS5) -
After the tragic shootings in Aurora, CO, many of us find ourselves asking what kind of person is capable of carrying out this type of violent attack.
David Eagleman, a neuroscientist at the Baylor College of Medicine, sat down with CBS 5 News via Skype for an interview Sunday.
We asked why it is so important to know what is going on inside the brain of suspect James Holmes.
Eagleman said, "It is because the legal consequences are different."
Although few facts are available about Holmes' personality or mental health background, Eagleman said a few observations can still be made.
Drugs or a brain tumor are both suspect approximately 48 hours since the shooting, according to Eagleman.
The suspect could also be psychotic or he could be a psychopath, which Eagleman points out are two very different things.
"There is a very important distinction to be made between somebody who is psychotic, which means they have something like schizophrenia, and people who are psychopathic, which means they are a psychopath and don't care about other people."
Basically Eagleman said psychotic is like a homeless person arguing with himself when a psychopath could blend in with society, much like Holmes did getting a bachelor's and master's degree.
A psychopath could be a monster underneath and have no empathy and no guilt.
And then we come back to how this could play out in court.
If the suspect is in fact determined to be a psychopath, which is what Eagleman says is most likely at this point, the defense will have a much different case.
"Then he is not eligible for the not guilty by reason of insanity plea and therefore he will be prosecuted to the full extent of the law," said Eagleman.
In Colorado, the fullest extent of the law is the death penalty.
Eagleman says the diagnosis should come into focus in the coming days as we learn more about suspected Holmes.
We mentioned drugs and a brain tumor at the beginning of the story. Eagleman said those two diagnoses are unlikely.
Eagleman's blog says he is a neuroscientist and a New York Times best-selling author and he directs the Laboratory for Perception and Action at the Baylor College of Medicine, where he also directs the Initiative on Neuroscience and Law. He is best known for his work on time perception, synesthesia and neurolaw.
His book is titled Incognito, The Secret Lives of the Brain and you can follow his blog to learn more.
Copyright 2012 CBS 5 (Meredith Corporation). All rights reserved.