Colorado shooter's weapons easy to find in Arizona
Posted:
Updated: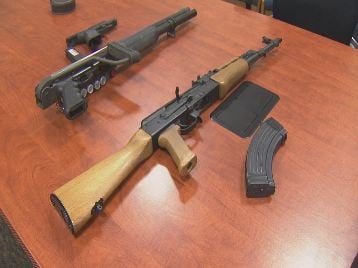 © CBS 5
PHOENIX (CBS5) -
Authorities believe the weapons the Colorado shooter suspect used were purchased legally in Colorado and similar weapons would not be hard to find in Arizona.
Investigators in Colorado know the shooter was carrying a pump-action shotgun, two Glock handguns, an assault rifle and some sort of smoke grenade.
And the same weapons could easily be purchased quickly in the Valley online to anyone, including felons and minors.
"The longest time would be the drive to someone's home, but the deal would probably take three to five minutes," said Jess Torrez, a former SWAT team member that trains private security in firearm use.
Anyone can sort through assault rifles, handguns and even 50-caliber machine guns, which are powerful enough to take an airplane down, that are for sale in the Valley via Backpage.com.
It's also easy to get a hold of a smoke canister because they are sold at military surplus and sporting good stores.
"You can purchase dynamite in Arizona. I believe it's only Phoenix and one other municipality where you need a valid driver's license to buy it," Torrez said.
Some private sellers may ask for a license, but a few more clicks or a few more dollars will remedy that problem.
"There are always people who are willing to do anything for money," Torrez said.
Torrez explained that the weapons would be easily available online to someone who wanted to carry out a copycat attack.
"Absolutely, there's no doubt in my mind," he said.
Copyright 2012 CBS 5 (Meredith Corporation). All rights reserved