Dog owner: Neighbor slit dog's throat to stop barking
Posted:
Updated: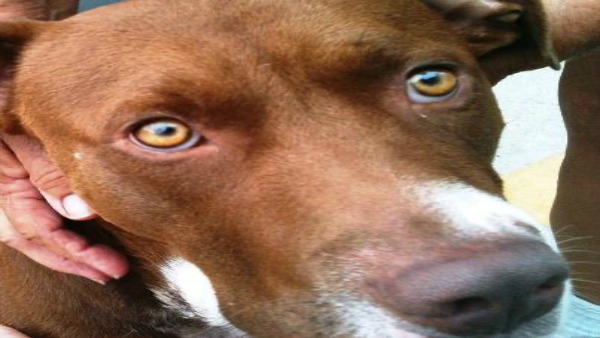 Braveheart the dog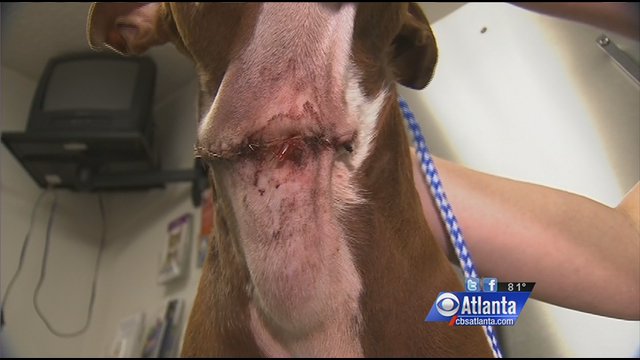 Braveheart after surgery
ROME, GA (CBS46) -
Braveheart the dog is living up to his name. He is recovering from surgery to repair a slit throat.
Cathy Roth of the Animal Rescue League of Northwest Georgia saved Braveheart from a local county shelter.
"The story I got when I picked him up from the shelter was the neighbors had been complaining that he barked so much and their belief is one of the neighbors slit his throat," Roth said.
Roth said she also gained access to a discussion on Facebook where Braveheart's owner confirmed that as well.
"It's beyond horrifying to me," Roth told CBS Atlanta News.
The dog's throat was slit open on Sunday night. The owner apparently couldn't pay for surgery and gave the dog to a county animal shelter.
"The trachea was exposed and all the other structures were exposed. Luckily, there was no damage to any of them, which is why he was able to live," Roth said.
Braveheart underwent surgery Wednesday morning. Thursday night, he was doing great and even jumping for a squeaky toy. He was also enjoying licking people.
"He's such a sweet and loving dog," Roth said.
It's not clear if Braveheart will ever be able to bark again, but he did make several whimpering sounds on Thursday.
Roth said she's having difficulty finding a law enforcement agency that will investigate the case. The Animal Rescue League of Northwest Georgia is offering a $1,500 reward for information leading to an arrest.
Donations to help cover Braveheart's vet bills can me made directly to the Whatley-Kinney Veterinary Clinic at 415 Plainville Rd. NE, Rome, 30161. Their phone number is 706-291-4587.
Donations can be made through PayPal on the organization's website here.
Copyright 2012 WGCL-TV (Meredith Corporation). All rights reserved.