Man faces charges for fatal car accident
Posted:
Updated: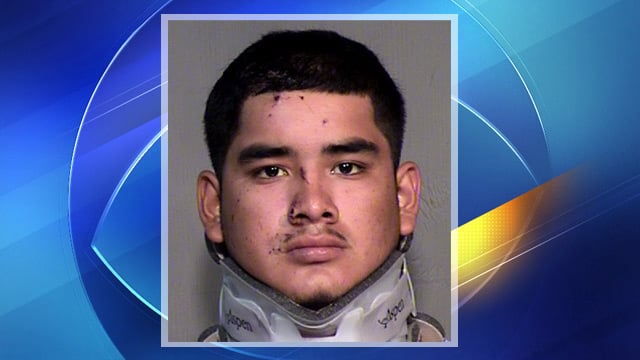 Eduardo Soto-Ramirez
PHOENIX (CBS5) -
A man is facing charges after police said he ran a red light and caused a fatal crash in Phoenix that ejected a man from his vehicle early Monday morning.
Eduardo Soto-Ramirez,19, is facing one count of manslaughter and one count of aggravated assault with serious physical injury after police said he drove drunk and caused the accident.

Soto-Ramirez was driving a Ford Crown Victoria westbound on Broadway Road at South 35th Avenue around 3 a.m. when he failed to stop for a red light, police said. His vehicle collided with a Ford F150 pickup truck, which spun around and ejected the driver, Viridiana Espinoza.
Espinoza was transported to St. Joseph's Hospital, where she was pronounced dead.
A 15-year-old girl in the passenger seat of the Crown Victoria was also injured, police said. She suffered a fractured pelvis, a collapsed right lung, fractured vertebrae and lacerations to her liver. She is in the intensive care unit at St. Joseph's Hospital.
Soto-Ramirez was transported to Banner Good Samaritan Hospital and was treated for a fractured vertebrae and facial lacerations, police said.
Police said they smelled alcohol on his breath when the arrived at the scene. A blood test done at the hospital showed he had a blood alcohol level of 0.210 percent. The legal limit in Arizona is 0.08 percent.
Soto-Ramirez did not have identification on him and police said he was driving on a suspended license.
Copyright 2012 CBS 5 (Meredith Corporation). All rights reserved.