Nissan Leaf owners claim AZ desert heat saps batteries
Posted:
Updated: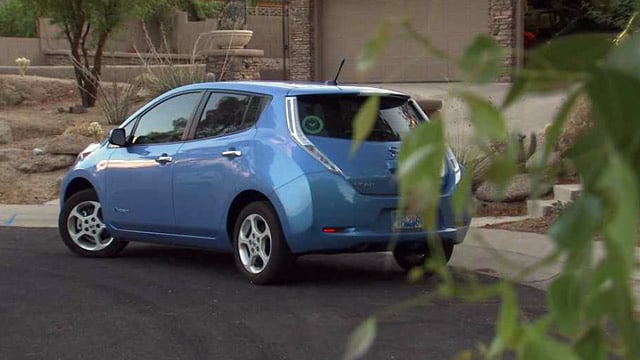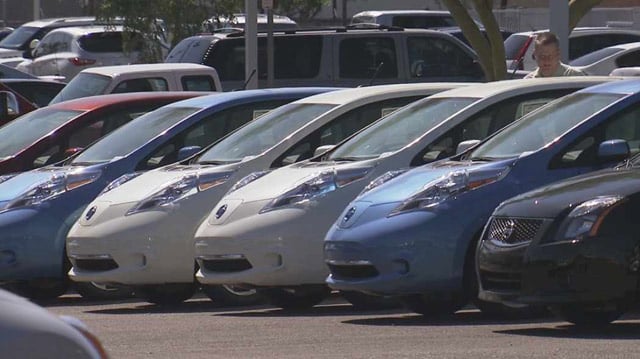 Nissan Leafs
PHOENIX (CBS5) -
Some Nissan Leaf car owners are tempted to pull the plug after a dramatic drop in their driving range. They believe Arizona's scorching heat is baking the batteries of their electric cars.
Just one year ago, drivers in the desert could count on a full charge to get them around town. But now they say the car they love is losing power, and they are losing patience.
"I absolutely love this car," said Leaf owner, Scott Yarosh.
"This car is just built rock solid," adds fellow Leaf owner, Mason Convey.
These owners have high praise for the quiet and comfy Nissan Leaf. The all-electric ride not only saves the environment, it also saves money.
"We're paying 2 cents a mile to drive this car," Convey estimates.
"Not stopping at a gas station is amazing," said Yarosh.
The Nissan Leaf made its debut just last year. There are 13,000 of them on the road.
Of the 400 cars in Arizona, the excitement of Yarosh and Convey about their new Leafs is starting to wilt. They said they are extremely frustrated and disappointed.
"When I first purchased the vehicle, I could drive to and from work on a single charge, approximately 90 miles round trip," Yarosh said.
And now, he says, "I can drive approximately 44 miles on this without having to stop and charge."
The two owners are not alone. They belong to a community of Arizona owners with the same grief about the Leaf. They believe Arizona's extremely high heat might be cooking the car's battery, which has no cooling system.
With their batteries fully charged, they've seen at least two of the 12 lights on their cars' battery capacity gauge go out. Yarosh has lost three.
The owners' estimate their reduced battery capacity is at least 30 percent, even though they claim they are driving in strict accordance with Nissan's owner's manual. They also showed CBS 5 News their dealership service records, which show high marks for properly driving and charging their Nissan Leafs.
According to Nissan, that 30 percent battery capacity loss shouldn't happen until after about seven years on the road.
Yet Yarosh and Convey said every time they take their cars in to a Nissan service department, they are told it's "normal."
CBS 5 News spoke with Mark Perry, the director of product planning for Nissan. In a YouTube video regarding the Nissan Leaf battery he said, "Heat is definitely not a friend of batteries, but I'm talking severe 130, 140 degrees."
Over the phone, Perry said the company does not consider the issue a problem, yet he said they are investigating five complaints about the rapid loss of battery capacity, and all of them are in Arizona.
"We want to learn more about what's going on, but it's something we've just been made aware of, and we don't have any conclusions yet," Perry said.
Perry says owners with similar complaints shouldn't leave the dealership before making sure the dealership calls the region's technical service manager.
In the meantime, Convey said he hopes Nissan will acknowledge their concerns and provide a quick remedy, or he fears, "soon, I'm left with a very expensive paperweight in the garage."
Copyright 2012 KPHO CBS 5 (Meredith Corporation). All rights reserved.