SEE THE BACK STORY
Lead coupon bust investigator talks about case
Posted:
Updated: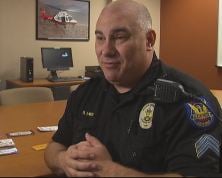 PHOENIX (CBS5) -
We sat down with the lead investigator for an exclusive interview on a widespread counterfeiting and forgery coupon operation that was taken down Tuesday in the Valley.
It is believed to be the first of its kind in the United States and worth millions of dollars.
Sgt. David Lake from the Phoenix Police Department was asked to lead the investigation because of his expertise in what's called economic-based policing after Procter and Gamble hired a private group to find where the fake coupons were coming from.
Lake helped lead to the arrest of three women and the seizure of $40 million in fake coupons.
"The reason that is significant is, if you look at these, they are not just pieces of paper," said Lake. "They have cash value."
The ring was believed to be led by 40-year-old Robin Ramirez, according to police.
Ramirez and who police believe were her two helpers, Amiko Fountain, 42, and Marilyn Johnson, 54, were arrested Tuesday after police culminated an eight-week investigation by serving search warrants at three Valley-area homes.
"I looked at 15,400 orders," Lake said.
After digging through what's believed to be the website used to sale the fake coupons, he found a pattern.
"I didn't see any onesy, twosey type orders. I saw quantity orders."
He said those quantity orders yielded a lavish lifestyle of nice houses and expensive toys.
"The opulence and the money was the equivalent of drug cartel-type of stuff. That's the type of money they had," Lake said.
While the scheme cost manufacturers and retailers a lot of money, Lake said the ring also cost the country a lot of jobs.
"When we did our study, $50,000 in losses equates to one job," he said. "So this lady had $40 million in coupons on her, which equates to 800 jobs."
Lake said the FBI is now trying to sort out exactly where the suspects were getting the coupons.
It's believed that the source was somewhere overseas.
Copyright 2012 CBS 5 (Meredith Corporation). All rights reserved.