Owl snatches AZ foster puppy
Posted:
Updated: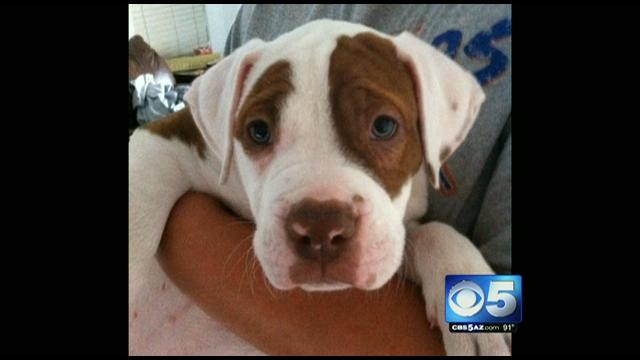 PHOENIX (CBS5) -
An owl scooped up a puppy and just when the foster mom thought she'd lost the dog for good, she turned up.
Life hasn't been easy for four American bulldog mixes Sally Joe, her siblings Cozer and Fresno and their mom.
"There are so many animals there that need my help," Aimee French said.
French is a foster dog owner. Her mission to help care for Sally Jo and the rest of the clan was almost immediately sidetracked.
"I hear Sally do this death curling, screaming cry," French said.
French said the owl had been in the tree for weeks preying on animals.
"The mom is jumping in the air, growling, barking and they ended up running over here," Friend said.
French said it wasn't until the following day when she realized the owl had snatched Sally Jo away.
"I was very angry with that owl, I know it's the circle of life but it would just tear me apart to see that owl," French said.
After searching for days, French had given up on hope that Sally Jo was still alive until she talked with a neighbor who had talked with another neighbor and connected the stories.
"She was an 82-year-old grandma and she thought that puppies were falling from the sky - that is what she told me because the puppy miraculously appeared in her backyard," French said.
The puppy has a little scratch on her ear but otherwise she is doing just fine.
The owl hasn't left the neighborhood but French is keeping a close eye on her little ones.
Copyright 2012. CBS 5 (Meredith Corporation). All rights reserved.