MCSO: Inmate plots uncovered to kill Arpaio, rival jailmate
Posted:
Updated: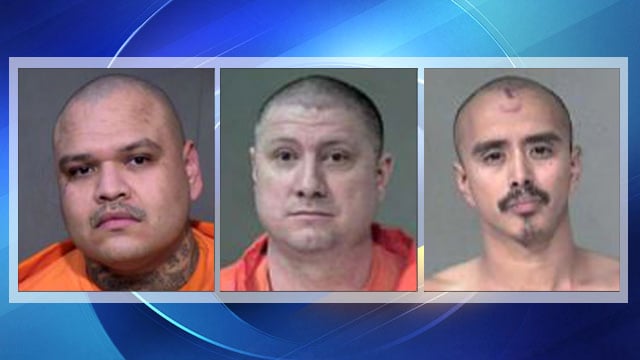 Mark Cons (l), Rudolfo Santos (c), Samuel Matta
PHOENIX (CBS5) -
Three Arizona maximum security inmates were arrested Wednesday on suspicion of devising separate assassination plots that targeted Sheriff Joe Arpaio and a rival jailmate.
Two members of the Mexican Mafia, Marks Cons, 33, and Rudolfo Santos, 37, were served with arrest warrants at the Fourth Avenue Jail where they are currently incarcerated.
A member of a documented street gang, Samuel Matta, 29, was served with an arrest warrant at the state prison in Florence, where he is currently housed.
All three inmates are charged with conspiracy to commit the murder of another jail inmate.
An inmate tipped off sheriff's detectives earlier this year that Matta was allegedly planning to publicly assassinate Arpaio using a high-powered rifle.
Matta believed that Arpaio was personally responsible for the deportation of some of his family to Mexico from their home in El Mirage, MCSO said. He was allegedly planning to carry out the assassination plot once he was released from jail, according to sheriff's detectives.
MCSO said Matta shelved his plan to kill Arpaio when he was unsuccessful in being released on a $1,800 bond.
The investigation into the alleged Arpaio murder plot then led to the discovery of yet another plan, MCSO said. Audio surveillance uncovered a conspiracy by Cons, Santos and Matta to kill another inmate - a rival gang member, sheriff's investigators said. The alleged murder plot was also foiled by sheriff's detectives.
The entire investigation unfolded in April of this year, a month that saw higher than usual levels of gang and racial tensions inside Fourth Avenue Jail, according to sheriff's investigators.
One incident in April involving dozens of black and Hispanic inmates prompted Arpaio to order a near two-week lockdown of the maximum security jail in downtown Phoenix.
Copyright 2012 CBS 5 (Meredith Corporation). All rights reserved.