Conspiracy peddlers influence AZ sec. of state
Posted:
Updated: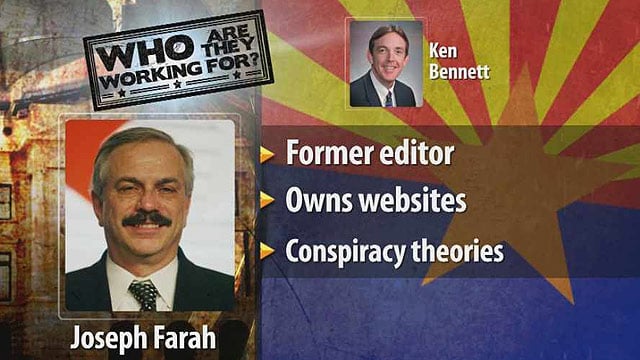 PHOENIX (CBS5) -
Documents released by the Arizona Secretary of State's Office indicate a barrage of emails from the Surprise tea party which prompted Ken Bennett to investigate the president's birth certificate.
But a CBS 5 investigation has found that the real driving force behind the move might have actually been a wealthy conspiracy theory peddler.
In the days and months before members of the Surprise tea party demanded Bennett investigate the legitimacy of President Obama's birth certificate, two authors who contribute to conspiracy theory websites gave presentations to the organization.
Both websites were started by Joseph Farah, a former newspaper editor. Farah is a leading voice in conservative media, questioning the citizenship of the president. A review of editorials Farah has written show he has also pushed theories that Oklahoma City bomber Timothy McVeigh had ties to a Middle Eastern terrorist group and that TWA Flight 800 was brought down by missiles and that the U.S. government covered it up.
Author Tom Ballantyne, a contributor to Farah's Western Center for Journalism website, spoke to the Surprise tea party in April, and admits he mobilized the members to prompt Bennett to act.
"All of the polls that I've seen show that more than half the people in the country still don't know where (Obama) was born. And that's just a simple fact. He hasn't proven it," Ballantyne said.
Bennett sent a series of emails to officials in Hawaii, asking that they verify Obama was born in that state. At least one of Bennett's staff members also worked on the issue.
"He is pandering to a very small fringe group of people and he's really putting their interests in front of the interests of the state of Arizona," said Rep. Chad Campbell, the leader of the Democrats in the state House, and a critic of Bennett.
Campbell said that despite the fact Bennett backed off of his demands to Hawaiian officials, he still sees a problem with the secretary of state's actions. Bennett is also Mitt Romney's Arizona campaign chairman, which Campbell argues is a conflict of interest.
Statewide elected officials like Bennett are allowed to engage in political activity, so long as they do not use taxpayer resources. But Bennett did use his office and at least one staffer in the birther probe.
A spokesperson from the Arizona Attorney General's Office said Bennett did not request a legal opinion on the issue, which is something state officials are encouraged to do when engaging in activity that could bring up the appearance of a conflict.
Bennett's spokesman told CBS 5 News the secretary of state would not comment on the issue, aside from offering a statement he issued two months ago.
It reads:
"Late yesterday, our office received the 'verification in-lieu of certified copy' from officials within the Hawaii Department of Health that we requested in March. They have officially confirmed that the information in the copy of the Certificate of Live Birth for the President matches the original record in their files.
"As Arizona's chief elections officer, I have the responsibility to certify the ballot to the state's 15 counties. At the request of numerous constituents, I merely asked Hawaiian officials to verify the information contained within President Obama's original birth certificate. They have complied with the request and I consider the matter closed."
CBS 5 News sent the following email to Bennett's office last week, but did not receive a request:
I do have some questions that I don't think the secretary of state has addressed, and which I do think he should have the opportunity to address, including, but not limited to:

Whether he knew Tom Ballantyne and Jerome Corsi were employees of and/or contributors to publications owned by Joseph Farrah.
Whether he knew that Ballantyne and Corsi had mobilized the Surprise Tea Party to email demands that Bennett investigate the president's birth certificate
Whether he thinks he was manipulated by Farrah and his followers to take state action on the issue.
Whether he sought out guidance from the attorney general or solicitor general on the issue, being that he was a campaign chair for Obama's opponent, Mitt Romney
And specifically, whether he sought guidance from the above legal experts on whether it was appropriate or legal for him to direct staff to use official state resources to investigate the president's birth certificate, again, given the fact that Bennett was/is on the Romney campaign team
Has Mr. Bennett been informed by any investigating agency that his actions in the above-mentioned situation are under investigation or review?
Critics such as Campbell argue that whether Bennett is working on behalf of a conspiracy theory peddler or the Romney Campaign, his actions in this issue did not benefit the citizens of Arizona.
"The fact that Mr. Bennett did listen to these people. The fact that he pandered to these people, should plant a question in every voter's mind about whether or not Ken Bennett is actually doing his job," said Campbell.
Copyright 2012 CBS 5 (Meredith Corporation). All rights reserved.