Independent ranks skyrocket among AZ voters
Posted:
Updated: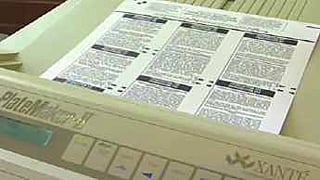 An increase in Arizonans registering to vote as independents might be fueled by voter frustration over partisanship.
The biggest increase in independents occurred between June 2010 and July 2011, and the numbers have basically stayed flat over the past year. During that period, the number of registered independents increased about 101,000.

During the two-year period between June 2010 and June 2012, the number of registered Republicans jumped about 14,000.

But in just the past year, the number of registered Democrats dropped by more than 52,000.

Of Arizona's 3.1 million registered voters, about 36 percent are Republican, about 30 percent are Democrats and about 33 percent are independents.

Arizona Democratic Party spokesman Frank Camacho said voters are getting tired of the tone of today's politics.

Tim Sifert, Arizona Republican Party spokesman, attributes the jump in independents to uncertainty about issues.
Copyright 2012 Associated Press. All rights reserved. CBS 5 (Meredith Corporation) contributed to this report.