SEE THE BACK STORY
ASU researchers try to take the sting out of aging
Posted:
Updated: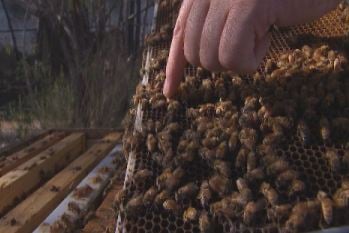 GILBERT, AZ (CBS5) -
We all want to age gracefully, right? Well some ASU researchers said we may be able to learn a thing or two from bees.
It turns out bees aren't just good for making honey. The folks over at ASU gave them new tasks to learn and it essentially kept them young - and could have implications for you and I.
ASU researcher Nicholas Baker and his team noticed older bees who forage for nectar and pollen weren't as sharp as their younger, nursing counterparts.
"Once they begin foraging we start seeing this rapid decline," Baker said.
So they took the nursing bees away from the cone, leaving the larvae alone. When the foragers came back, they were stung with surprise.
"What's going on here?" Baker asked, jokingly simulating the bees' reaction. "How come no one's taking care of the kids? How come no one's taking care of the hive?"
After the foragers took on the new task of nursing, researchers tested them by taking a page out of Pavlov's book. Here, they used sugar water as the reward and added a strange odor to the experiment, to see if the bees could associate the two.
"Maybe after one or two trials, they get that connection," he said.
Baker said the older bees who continued to forage never learned to associate the sugar water with the odor. And inside their tiny brains, they found the bees who had to learn to nurse produced more proteins that kept them young - the same proteins found in every species. This could mean that down the road this study could have implications for people, for staving off diseases like dementia and Alzheimer's.
"Something as simple as using a different hand to brush your teeth," Baker said. "I don't know if you've tried that before but it feels awkward but even doing something like that, you're making new connections."
Again those larger implications are very far off - first Baker said researchers will likely test similar methods on rats.
Copyright 2012 KPHO (Meredith Corporation). Allrights reserved.