Dirty Dining, July 5: Restaurant cited for 9 major violations
Posted:
Updated: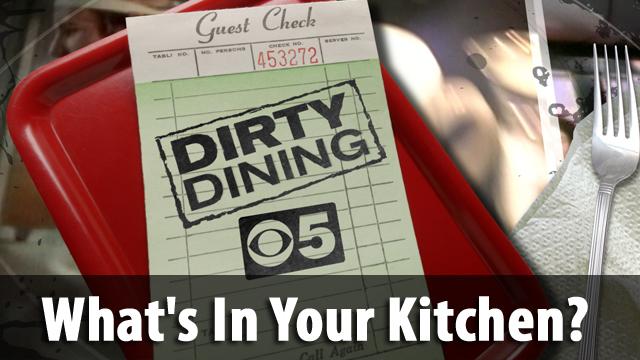 © CBS 5
PHOENIX (CBS5) -
Every week CBS 5 News is sent a list of restaurants that have been recently inspected by Maricopa County's Environmental Services Department. CBS 5 News selects five restaurants with some of the highest number of "Risk Factors." According to health inspectors, risk factors are considered major health code violations. For more details on the restaurant inspection scoring system visit http://www.maricopa.gov/
Burger King
2370 S. Val Vista Dr.
Gilbert
Five major violations
Humberto's Mexican Food
3550 W. Cactus Rd.
Phoenix
Five major violations
Emeritus at Baywood
310 S. 63rd St.
Mesa
Six major violations
Breugger's
721 N. Arizona Ave.
Gilbert
Seven major violations
Mariscos Vuelve A La Vida
2915 N. 43rd Ave.
Phoenix
Nine major violations
Dean's List – Perfect health inspection scores
Sapporo
14344 N. Scottsdale Rd.
Scottsdale
Carl's Jr.
5378 S. Power Rd.
Gilbert
Zinburger
2502 E. Camelback Rd.
Phoenix
Mr. Goodcents Subs
7707 S. Kyrene Rd.
Tempe
Olive Garden
15411 W. McDowell Rd.
Goodyear
Daddy Dukes
250 W. Van Buren St.
Avondale
SPECIAL STATEMENT:
By Gretchen Wentz, Executive Director, Emeritus at Baywood
On June 29th, the Arizona Department of Health submitted an inspection report to Emeritus at Baywood, a senior living community, in Mesa AZ. Unfortunately, the report identified some kitchen areas that needed correction.
We take the State's findings extremely seriously, and have cooperated with them to address the identified issues. The violations included concerns such as dented cans, oil on shelves and dry food placement. The community's kitchen did not have any sanitary or infestation issues.
On the same day of the inspection report, the violations were immediately addressed and corrected. The State has accepted these corrections.
At Emeritus at Baywood, we understand the importance of preparing delicious meals and are committed to creating meaningful dining experiences for our residents. Senior living residents dine on their community's fare nearly every day, often for all three meals, so we also know there is always room for improvement. To that end, this circumstance has afforded the community the opportunity to bring in qualified resources to evaluate and improve procedures, train the staff on these procedures, and integrate them into our operations.


We look forward to receiving another clean kitchen inspection report next week while we continue to focus on the safety and care of our valued residents.
Copyright 2012 KPHO. (Meredith Corporation.) All rights reserved.