Brewer's birthday cards to new parents urge shots, cause debate
Posted:
Updated: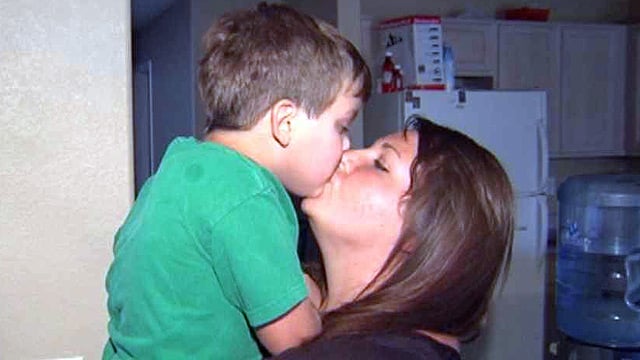 Jaime Eisenbise says her son Daniel's autism was the result of his immunization and she's upset at Gov. Jan Brewer's birthday cards to parents urging those shots.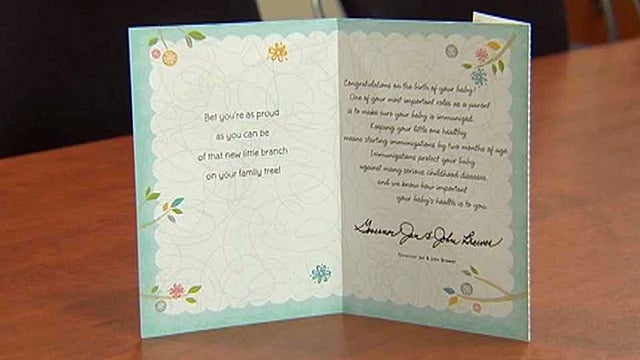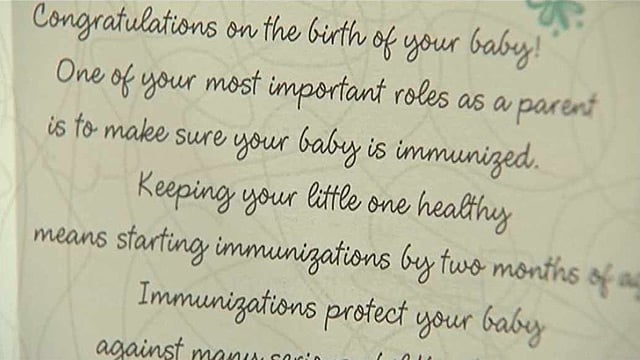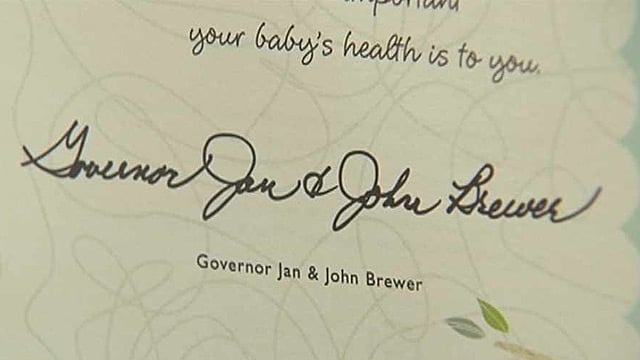 PHOENIX (CBS5) -
Thousands of families with new babies across Arizona are finding Hallmark birthday cards from Gov. Jan Brewer in their mailboxes.
The cute cards with a peek-a-boo birdie on the front seem innocent enough.

But those cards are causing controversy.
An Arizona Department of Health spokesman says they're a simple reminder to keep up on vaccinations, and keep children safe, but a Gilbert mom of an autistic 6-year-old boy believes the card is sending a dangerous message.
"I can't believe that something like this over a needle prick could happen," said Jaime Eisenbise about her son Daniel's autism.
Nearly five years ago, she took Daniel to get his measles, mumps and rubella (MMR) shot.
At the time, she said, he spoke and knew his alphabet. But that was the turning point in their lives, because Daniel hasn't spoken since.
"The very next morning he woke up, and everything was gone," said Eisenbise.
When Eisenbise saw the Hallmark card sent out to 50,000 Arizona families, she was shocked.
It reminds new parents that one of their most important roles is to immunize their baby.
"That's insane. Your most important role as a parent is to make sure your child is safe and healthy and happy," she said.
The card has an immunization record attached, and is signed by Brewer and her husband, John.
"If they were affected personally by autism, I guarantee you their name would not be on that card," Eisenbise said.
A 1998 study linking autism to childhood vaccines was found to be an elaborate fraud, according to the British medical journal BMJ in January 2011.
The study's author, Dr. Andrew Wakefield, was found to have altered medical histories of all patients in the study. He was stripped of his medical license in May 2011.
"We certainly don't come out and force parents to get vaccines if they are truly against them," said Dr. Cara Christ from the Arizona Department of Health Services.
She said that with some parents in recent years opting to not get their child's shots, the cards are another tool to help remind parents of the importance of the full range of vaccines to protect not just their family, but all Arizonans as well.
"We need to do more education and make sure that parents understand that although we don't see these diseases, these diseases are just a plane ride away," Christ said.
Hallmark launched the national card program in the 1990s. They donate all of the cards, and the participating states pay to send them through the mail. In Arizona, that's about $30,000 that is paid for by a grant from the CDC.
Because of budget cuts in Arizona, the program was on hold for the past couple of years until now.
Copyright 2012 KPHO CBS 5 (Meredith Corporation). All rights reserved.