Fireworks laws confuse Arizona residents
Posted:
Updated: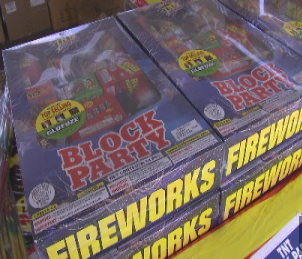 GLENDALE, AZ (CBS5) -
Some Arizonans might be committing a crime this week and not know it.
Fourth of July fireworks are on sale all across the Valley, but that doesn't mean you can legally light them up in your backyard.
A lot of fireworks customers have no idea they're about to break the law if they set off any fireworks this week.
CBS 5 News asked shopper Stephanie Linares if she knew where she could legally set them off.
"Ummm, I don't know," Linares said.
"I'm not sure," said shopper Michael Ruiz. "We just moved here from Chicago."
Most Valley cities have an all-out ban on the use fireworks even though they can legally be bought and sold at fireworks stands across Arizona.
The city of Glendale joined other Valley cities a few months ago, and banned the use of fireworks.
Michael Young with the Glendale Fire Department said that violators can be hit with a $275 fine and may be held responsible for the cost of an emergency response.
"You cannot use fireworks at your house, on the street in front of your house, or at a park," Young said. "It is 100 percent illegal to use them within the city limits."
Stephanie Linares only wishes someone explained the laws before she bought fireworks for her family.
"Why are they going to sell fireworks if you can't light them off?"
Gilbert and Mesa are the only two Valley cities that allow people to light fireworks on private property over the Fourth of July.
Young said the best thing you can do is go online or call the city or town where you live to see what restrictions there are.
Here are some cities that allows fireworks, with restrictions:
Gilbert
Use of "Consumer Fireworks" is prohibited within the Town of Gilbert except on the following specific holiday days: Dec. 31, Jan. 1, July 3, July 4 and July 5.
During this period the use is limited to private property with the owner's permission and prohibits use on all public property, including all public parks and public right of way. Consumer fireworks are approved for sale only to persons 16 years of age and older in Arizona.
http://www.gilbertaz.gov/fireworks/#.T_I7uvVgV8E
Mesa
The use, discharge or ignition of Arizona permissible consumer fireworks is limited to June 28 to July 4 and Dec. 30 to Jan. 1 on private property, with the property owner's permission.
http://www.mesaaz.gov/fire/prevention/pdf/FIREWORKSNOTICE-AZMesaREVISED.pdf
Queen Creek
Fireworks may be sold in stores within Town boundaries, but the Town of Queen Creek has an ordinance stating that the use of fireworks within the Town limits is prohibited other than on July 3 to 5, Dec. 31 and Jan. 1. It is important to know that consumer fireworks are allowed only on private property and a person(s) who use, discharge or ignite permissible consumer fireworks are responsible and liable for expenses as a result of any emergency response that is required by such use, discharge or ignition per the Town Code.
http://www.queencreek.org/Index.aspx?page=970
Copyright 2012 KPHO (Meredith Corporation). All rights reserved.