UPDATE
Wildfires near Safford continues to burn
Posted:
Updated: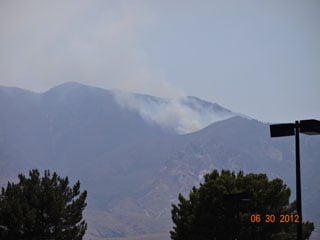 Pinnacle Fire
PHOENIX (CBS5) -
Firefighters are battling two different fires about 10 miles southwest of Safford that have lead to a number of road and trail closures, fire officials said.
Both the 60-acre Pinnacle Fire and the 150-acre Trap Peak Fire are burning in an area of rocks and logs left from the 2004 Gibson Fire where the terrain is steep and hazardous for firefighters.
The Trap Peak fire grew to 150 acres Monday and is burning hot, but it is moving at a slow pace because it's lacking the fuels to drive it, fire officials said.
Firefighters plan on holding the fire at Forest Road 507 and then check the fire's growth to the north.
Fire crews containing the Pinnacle Fire are constructing holding features to be used for possible burnout operations, fire officials said.
The fires have led to the closure of several trails, including the Round the Mountain trail, Frye Canyon trail, Ash Creek trail and Deadman trail, firefighters said. Forest Road 103 is closed from the Forest Boundary to Frye Mesa Reservoir as is Forest Road 307 and Ash Creek drainage north of Bible Camp.
Fire officials have also closed public access to the areas of Ash, Frye, Deadman and Marijilda canyons.
The Trap Peak Fire began Wednesday and the Pinnacle Fire began Thursday, fire officials said.
There are no evacuations or threatened structures at this time.
Fire officials said the fire that started Thursday was caused by lightning.
The Pinnacle Fire was turned over to a Type 3 Team at 8 p.m. on Saturday, officials said. There are currently 140 firefighters, four engines, four helicopters and one fixed wing aircraft working to extinguish the fire. The vehicles are being shared between the Pinnacle, Trap Peak and Grapevine fires.
The fires are producing a lighter smoke, which indicates more humidity, fire officials said.
Copyright 2012 CBS 5 (Meredith Corporation). All rights reserved.