UPDATE
Fire destroys LDS Church in Tolleson
Posted:
Updated: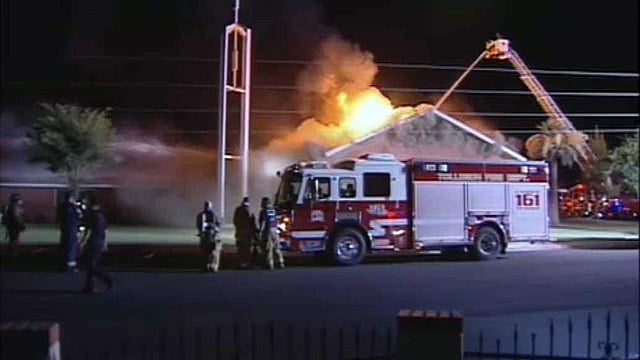 TOLLESON, AZ (CBS5) -
A ferocious fire destroyed an LDS Church in Tolleson on Friday morning.
Firefighters from at least five municipalities were battling the blaze at the 50-year-old church at North 95th Avenue and West Pierce Street.
The center of the roof has collapsed into the church, and firefighters said they were worried the front wall of the building could fall. Firefighters said the building was a total loss.
Tolleson Fire Chief George Good said the fire began in the church sanctuary and spread to the attic.

Greg Parsons, an LDS member, arrived at the church just after daybreak and said he received a call about the fire, but didn't know much else.
He said it was not likely that any church member was inside when the fire began. He said the church members will "just keep going."
"Inherently, everybody understands the center of the church is not the building but Jesus Christ. Bad things happen, but we'll just keep going," Parsons said.

A person living near the church told CBS 5 News he woke up to turn off his misters around 2 a.m. when his dogs began barking, and he saw smoke coming from the back of the church.
Firefighters appeared to have the flames under control around 3:45 a.m., but the flames erupted again.
At least five ladder trucks from the Phoenix, Glendale, Goodyear, Avondale and Tolleson fire departments and at least 50 firefighters were fighting the fire.
Good said no cause had been determined.
No one was injured.

Copyright 2012 CBS 5 (Meredith Corporation). All rights reserved.