Hispanic panelists voice concerns at ASU forum
Posted:
Updated: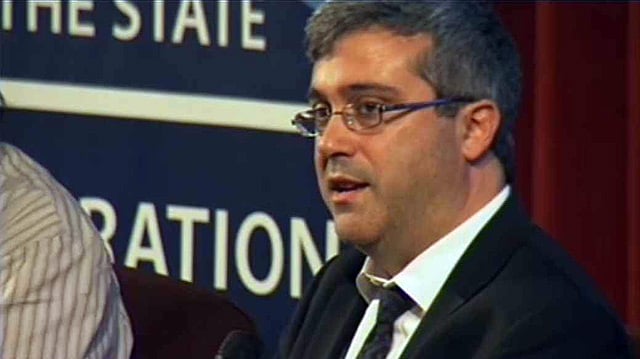 MALDEF President and General Counsel Thomas Saenz addresses questions at the Latino State of the State forum at ASU on Tuesday.
PHOENIX (CBS5) -
The Mexican American Legal Defense and Educational Fund (MALDEF), a civil rights group, hosted Tuesday's 2012 Latino State of the State Arizona event, to highlight concerns facing the Latino population.
The panel of Hispanic leaders discussed the ban on ethnic studies and an ongoing desegregation case in Tucson, but the bulk of the dialogue centered on the law they say has dramatically changed Arizona's future, SB 1070.

"Gov. (Jan) Brewer, Sheriff (Joe) Arpaio, former Sen. (Russell) Pearce apparently read a different decision than the rest of us, as they have declared some sort of victory," said MALDEF President and General Counsel Thomas Saenz.
Saenz said his interpretation of Monday's split decision from the U.S. Supreme Court and the message sent by the Justices was that "our Constitution is supreme, and that specifically in the area of immigration regulation, there can be only one government authority."
The gathering at ASU's Cronkite theater was streamed live over the Internet so people all over the country could log on and hear discussion on recent issues facing Latinos, including section 2(B), the so-called, "show me your papers" provision of SB 1070.
"Today, a day after the decision, there can be no implementation of that section, unless and until the district court, the trial court that initially entered the injunction, concludes that it can go forward," said Saenz, who said Brewer gave the impression the provision could be effective immediately.
Maricopa County Supervisor Mary Rose Wilcox, another panel member, talked about the economic impact the divisive law has had, with Arizona losing millions of dollars in tourism after a boycott and thousands of jobs.
"People saw their images and said, 'What kind of business climate do you have, when you have such hate going on?'" she said, referring to the images of Brewer, Arpaio and SB 1070 author, Pearce, a conservative Republican from Mesa.
Panel member Petra Falcon, of Promise Arizona, added she has never seen the environment be as fearful and as hateful as it is now, but she admits it has brought the Hispanic community together. "We have found a way to take a stand and to say, this is not the Arizona we want to be a part of," Falcon said.
Panel members are hoping this politically-charged environment will be a wake-up call to get more members of the Hispanic community to vote as they continue to call for comprehensive immigration reform.
Copyright 2012 KPHO CBS 5 (Meredith Corporation). All rights reserved.