Potential flooding threat triggers Wallow Fire closures
Posted:
Updated: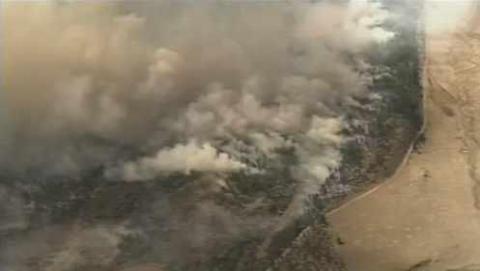 Wallow Fire
SPRINGERVILLE, AZ (CBS5) -
The potential threat of flooding from Arizona monsoons has prompted officials to temporarily close roads in areas burned by last year's Wallow Fire.
Apache-Sitgreaves National Forest officials said closure will go into effect on Monday, July 2, at 12:01 p.m. and will remain in place until the threat of flash flooding decreases.
"With monsoon rains on the way, precautionary measures are needed," said Apache-Sitgreaves Forest Supervisor Jim Zornes. "Despite these small closures, the majority of the Forest is open for the public's enjoyment."
Areas and roads to be closed include:
East Fork Area
Aspen Campground
Buffalo Crossing Campground
Deer Creek Campground
Diamond Rock Campground
Horse Springs Campground
Raccoon Campground

West Fork Area
West Fork Dispersed Campground

Blue River Area
Blue Crossing Campground South Fork Campground

Forest Roads
Forest Service Road 81 (Auger Canyon Road)
Forest Service Road 276
The Wallow fire was the largest wildfire in Arizona history. It consumed 817 square miles across eastern Arizona and 24 square miles in western New Mexico.
Copyright 2012 CBS 5 (Meredith Corporation). All rights reserved.