Romney: Immigration law has become a 'muddle'
Posted:
Updated: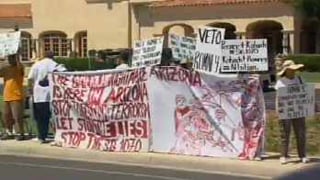 Protesters greet Mitt Romney in Scottsdale
SCOTTSDALE, AZ (CBS5/AP) -
Mitt Romney said he would have preferred that the Supreme Court "give more latitude to the states" in its ruling that effectively took the teeth out of Arizona's tough immigration enforcement law.
The likely Republican presidential nominee told donors Monday in Scottsdale that the law has "become a muddle." Romney says he would have preferred that states have more options to enforce their own immigration laws.
The Supreme Court is upholding Arizona's "show me your papers" requirement for the moment but prohibits police officers from arresting people on minor immigration charges.
The court struck down requirements that all immigrants obtain or carry immigration registration papers or seek work. The ruling also throws out part of the law that allows police to arrest suspected illegal immigrants without warrants.
Romney was speaking at a $2,500-per-person luncheon at the Scottsdale Plaza Resort.
Romney was met by a protest by the Immigrant Advocacy Foundation.
"Romney's effort to use the SB1070 decision as a political tool to advance his campaign simply serves to further polarize this state," said Carlos E. Galindo, the foundation's president.
Immigrant rights groups are promising more legal challenges in the aftermath of Monday's Supreme Court ruling on SB 1070. While throwing out a number of key provisions, the high court left in place the provision that requires police to check the immigration status of suspects stopped for other violations.
Gov. Jan Brewer said states have a responsibility to defend their residents, and in her eyes the case was about Arizona's support for the rule of law. Brewer said that includes laws against both illegal immigration and racial profiling. She promises that police will be "held accountable" if the law is used in a way that "violates an individual's civil rights."
But immigration rights groups are expressing disappointment with the decision. The National Immigration Law Center says the "show me your papers" provision will lead to "racial profiling" and "prolonged detentions." The group also notes that the Supreme Court opinion invites more challenges.
Copyright 2012 CBS 5 (Meredith Corporation). All rights reserved. The Associated Press contributed to this report.