UPDATE
3rd bear attack injures Tempe camper
Posted:
Updated:
Ponderosa Campground closes again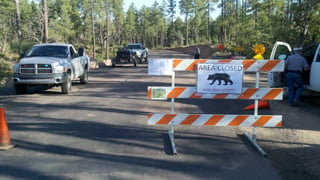 Mark Oltz, cbs5az.com
PAYSON, AZ (CBS5) -
A Tempe man was injured after a bear attacked him in his tent Sunday morning at Ponderosa Campground in the Tonto National Forest, gaming officials said.
It was the third attack in the Tonto National Forest since May 31. Two of those attacks have been at Ponderosa Campground.
Tonto National Forest officials immediately announced a second temporary closure. It includes Christopher Creek and Sharp Creek campgrounds, said Forest Supervisor Neil Bosworth.
"We simply cannot ensure camper safety in these areas and need to take more immediate steps to protect the public," Bosworth said.
The closure will remain in effect until July 15.
In Sunday's attack, the Arizona Game and Fish Department said a 30-year-old man suffered lacerations and bites to his head and arm when the bear entered his tent and attacked him, officials said.
The man's fiancee and a 1-year-old child were also in the tent. They were able to escape unharmed and sound the alarm to other campers in the nearby area, said Arizona Game and Fish spokesman Tom Cadden.
The man, whose name was not released, was flown to the Phoenix area for medical treatment.
Reports indicate that after the attack, another camper at a nearby campsite shot at the bear several times with a handgun at close range. The bear left the area, and it is unknown at this time if or how many times the bear was hit, Cadden said.
"Extensive efforts are being made to locate and remove the animal for the public's safety, which is our top priority," said Rod Lucas, regional supervisor for Game and Fish.
Bear hunters Sunday evening had begun an 8-mile perimeter search in the area where the most recent attack occurred. Three or four dogs were being used to help track the animal in Ponderosa Campground and Thompson Draw.
On May 31, a 74-year-old woman at Ponderosa Campground awoke in her tent to a bear clawing at her. Officials said after tearing open the tent, the bear reportedly stuck its head in and clawed at the woman. She had bruises and a laceration on her scalp.
Ponderosa campground is 12 miles northeast of Payson, with 61 camp units available with picnic tables, grills and fire rings.
On Thursday night, Jason Amperse, 29, of Glendale, asleep in a cabin under construction near Payson, was bitten by a bear. He suffered a bite mark on his right leg and claw marks on his left leg.
"At this point there is no way of telling if the bear in Sunday's attack was involved in either of the other two incidents," Lucas said. "We'll know more if we're able to remove the bear and do DNA and other testing."
This is the 10th documented bear attack in Arizona since 1990, Game and Fish officials said.
As of Sunday, the campground closure area is bounded by the junction of Highway 260 and Forest Road (FR) 405-A, south to Forest Road 893 continuing south on FR 893 until its junction with Forest Trail 37. It then extended south on Trail 37 to the Hellsgate Wilderness boundary line, then northeast along the Wilderness boundary line to FR 405 and north along FR 405 to its junction with Hwy 260. From there, the closure goes south to its junction with Forest Road 405-A.
The following roads in this area are closed: FR 405-A, FR 405, FR 893, FR 1625 and Forest Trail 37.
Game and Fish officials said with the state's drought and scarce wildlife food resources, more and more wildlife are moving into areas that are on the fringe of wildlands, looking for food.
Bears are attracted to areas where humans are because of the often easy access to garbage, food and gardens. It's important campers secure all food sources, cooking gear and trash well away from camps and tents when recreating in bear areas, Game and Fish officials said.
Copyright 2012 CBS 5 (Meredith Corporation). All rights reserved.