SEE THE BACK STORY
Band explains violent and graphic music video
Posted:
Updated: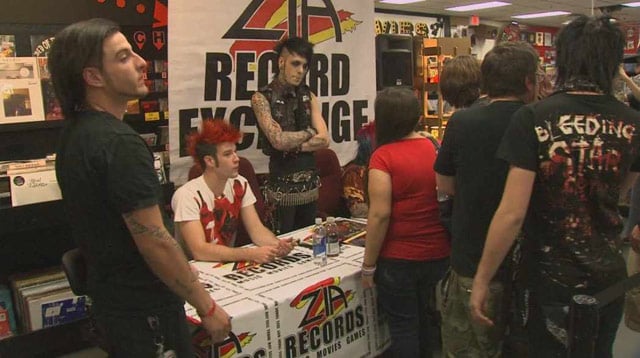 Electronic pop band Blood on the Dance Floor signs autographs in Phoenix on Thursday.
PHOENIX (CBS5) -
A new video by the electronic pop band Blood on the Dance Floor depicts a Columbine-like school massacre. The video is graphic and violent, and in less than 48 hours on YouTube the video has gotten close to 70,000 hits.
The video is called Rise and Shine and is the first track on the band's third full length CD Evolution, that has just been released.
As the video progresses, you see the shooter being bullied and harassed. The adults in his life are portrayed as hiding their head in the sand and not listening.
The band held a release and autograph signing session at a Phoenix record store Thursday night and CBS 5 News caught up with Jayy Von Monroe and Dahvie Vanity to ask them about their music and controversial video.
Vanity said he was inspired to write Rise and Shine from his experience in seventh grade.
"That was me at a time where I would victimize myself. I would hide my pain. I would be too embarrassed to tell my parents I was being picked on and bullied," Vanity said.
When asked if the video needed to be that graphic, Vanity said it was graphic to make a point.
"I think it sends a good message. It's showing that no one's listening and that people really need to start listening. I think that together people can help these kids and not judge these kids but more accept them," Vanity said.
The video concludes by showing the shooter waking up from a dream of having gone on a rampage and killing his classmates who bullied him, and putting a gun away in his backpack. When the video ends, statistics about bullying and the lack of intervention surrounding bullying are shown on the screen.
"Bullying has been around for as long as schools have been open. But now it's just getting more and more serious. There are kids that do bring guns to school just because they have access to it. And it's just not right and they shouldn't have to live this way," Von Monroe said.
Dozens of fans waited for several hours to meet the band and get their CDs signed. Many parents accompanied the teens.
Gary Ferreri said his 16-year-old daughter is mature enough to watch the graphic video. He said it's nothing she doesn't already see in the movies. He described the video as eye opening, and said it had a sobering message.
When asked what their music in general is about, Von Monroe said, "The message behind my music is love. Love is all that we need. Love for equality, for each other, for all the people around us."
You can watch the video on YouTube: http://youtu.be/00pkNz0SgX4.
Copyright 2012 KPHO (Meredith Corporation). All rights reserved.