UPDATE
Beloved zoo orangutan, 52, dies of cancer
Posted:
Updated: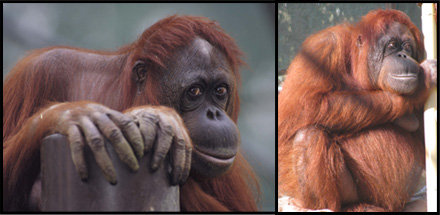 (Courtesy: Phoenix Zoo) Duchess
PHOENIX (CBS5/AP) -
An orangutan sick with cancer at the Phoenix Zoo was euthanized Sunday morning, said zoo spokeswoman Linda Hardwick.
Duchess, 52, was diagnosed with lymphosarcoma about a week ago and was given only weeks to live.
"The cancer was incredibly aggressive and over the past few days, Duchess became increasingly weak and more lethargic," said Dr. Gary West, executive vice president of Animal Health and Collections.
Zoo staffers said they tried to make Duchess as comfortable as possible toward the end.
Zookeepers learned of the illness after noticing a decrease in her appetite and other unusual behavior. A medical exam showed a mass in her abdomen and enlarged lymph nodes.
Duchess was the oldest Bornean orangutan in North America and had been with the zoo since 1962.
"Although we are deeply saddened by Duchess's passing, she long surpassed the number of years that orangutans live in zoos and preserves, as well as in the wild," said Bert Castro, president and CEO of the Arizona Zoological Society/Phoenix Zoo.
During her life, Duchess gave birth to seven babies. Five of her offspring have reproduced, and she currently has three offspring, six grandchildren and one great-grandchild living in zoos across the country.
At the time of her passing, Duchess shared her exhibit at the Zoo with her daughter Bess, her grand-daughter Kasih and Bess' mate, Michael.
The Phoenix Zoo announced that a celebration of life will take place Saturday, June 30, from 7 a.m. to 2 p.m. to honor Duchess.
Copyright 2012 CBS 5 (Meredith Corporation). All rights reserved. The Associated Press contributed to this report.