Pearce questions Obama's immigration decision
Posted:
Updated: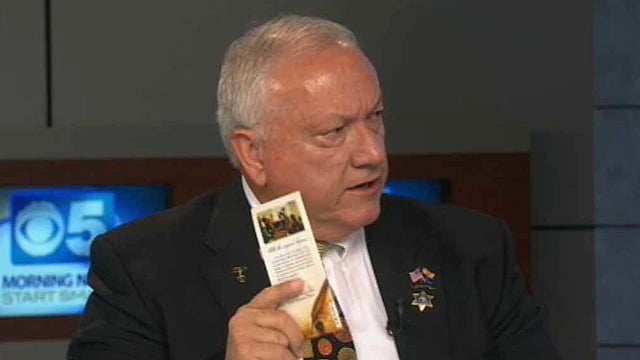 Former state Sen. Russell Pearce co-sponsored Arizona's tough immigration law, SB 1070.
PHOENIX (CBS5) -
The sponsor of Arizona's tough immigration law known as SB 1070 said he believes Pres. Barack Obama overstepped his authority with his executive order to prevent deportation of a certain segment of illegal immigrants.
Former Arizona Senate President Russell Pearce was in the CBS 5 News studios anticipating a decision from the U.S. Supreme Court on SB 1070.
The court's decision was delayed, but that didn't stop Pearce from speaking out about what he expects from the nation's highest court, and how SB 1070 will be affected by recent actions from President Obama.
"I'm looking forward to the decision. I'm anxious," Pearce said.
Pearce was admittedly disappointed that the Supreme Court didn't release its ruling Monday, but he said he's been working on the legislation for decades and doesn't mind waiting a little longer.
Even a high court ruling won't slow the debate on how undocumented immigrants should be treated in Arizona.
"Will it end? I don't know. But will it make a difference, this ruling? Absolutely," Pearce said. "Other states are just waiting in the wings to enforce it. This is a national crisis."
Pearce said he believes the Supreme Court will enact all of the measures of the controversial immigration enforcement law, but the logistics of enacting 1070 might have changed this week with the president's decision to not deport, and even grant work visas, to immigrants 30 years of age or young who were brought here by their parents and who have led crime-free lives.
"The practical effect will be there will be agencies to use it as an excuse not to do their job, which they are not doing anyway," Pearce said. "I mean, that's why you have a sanctuary policy in place in almost every major city in the United States."
"It's still illegal to have such a policy in the state of Arizona and (those agencies) will be sued," Pearce said. "And I've sent out such a letter to several of them and reminded them of that."
Pearce said he believes the president overstepped his authority with his decision he announced Friday, and said businesses that hire the young immigrants are not off the hook legally.
"Technically, that visa is no good. There will be those who believe that it's OK to hire them. But it won't be. It's still illegal. And they still, under Arizona law, under the (state) constitution, are subject to loss of license of doing business in the state of Arizona, so they better be aware of that," Pearce said.
"You know and I know that some of these people are good people," Pearce continued. "They are illegal, but they came for a better way of life. I don't deny that and I've never denied that. But there's a proper way to do it. If it's a bad law, change it. But until then, enforce it."
Pearce told CBS 5 News the president's executive order will only lead to mills that produce fake documents for young illegal immigrants, who will flood into the country to obtain a work visa.
He said the president's new blanket policy will only make it harder to determine who is here illegally.
Copyright 2012 CBS 5 (Meredith Corporation). All rights reserved.