See The Back Story
Naked woman dies walking for help in AZ desert
Posted:
Updated: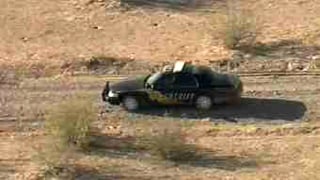 MCSO investigates body in desert
TONOPAH, AZ (CBS5) -
A California woman was found dead after walking for hours in the baking Arizona desert seeking help following a car crash that left her parents injured, Maricopa County sheriff's officials said.
The victim was identified as Mai Vo Bor, 37, sheriff's investigators said. She was on vacation with her family from California.
The family got into a single-vehicle crash half a mile south of the Interstate 10 and 411th Avenue on Friday.
"Inside the vehicle were an older Vietnamese couple and their daughter in her 30s," said Maricopa County Sheriff's Office Spokesman Jeff Sprong.
Officials said the daughter went into the desert looking for help after the crash around 6 a.m. Two hours later, the couple was spotted by a passer-by who called for help.
"We rendered aid to the parents. Unfortunately due to a language barrier, at that time we did not learn about the daughter going out to get assistance," Sprong said.
It wasn't until they were taken to West Valley Hospital in Goodyear, nearly 40 miles away, that an interpreter got the parent's story. That's when MCSO learned about their missing daughter, wandering in scorching heat.
"We're guessing she was out in the sun anywhere from eight to 10 hours," Sprong said.
The woman was found dead, a mile from the crash, without any clothes on.
"She either, best guess, succumbed to the elements or because of an injury that maybe occurred during the accident," he said.
CBS 5 asked if MCSO had an interpreter who could have been called for the parents, which may have been instrumental in saving the woman's life, but the spokesperson said he wasn't aware of one.
MCSO said there doesn't appear to be anything suspicious about this death. The parents are expected to be okay.
Sprong said being stranded out in the middle of nowhere does happen from time to time. He recommends keeping water in your car, having your cell phone on you and said that it might be best to just stay with your car.
Copyright 2012 CBS 5 (Meredith Corporation). All rights reserved.