Prison hostage standoff raises accountability questions
Posted:
Updated: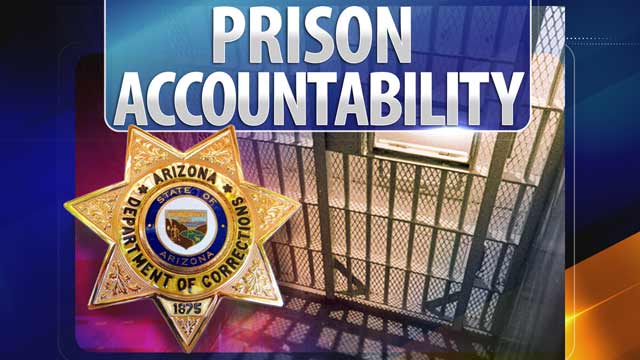 PHOENIX (CBS5) -
A recent standoff at the Lewis Prison in Buckeye in which a female civilian was taken hostage is raising serious questions about history repeating itself.
The Arizona Department of Corrections has confirmed that inmate Jesus Jimenez pulled a razor on a female co-worker and locked the door of the inmate store where they were assigned on March 22.
Jimenez held her hostage for about 30 minutes before releasing her unharmed. Meanwhile, she remains on leave after the ordeal.
On Jan. 18, 2004, at the same prison, an infamous 15-day standoff supposedly forced changes that would improve safety for civilians working with dangerous inmates.
A former deputy warden argues the state has ignored safety standards that used to be mandates.
Jimenez, 42, is doing life for murder.
As a 17-year-old, he used candy to lure a 5-year-old girl to his house where he strangled her, then mutilated her body.
Despite his violent past, the prison gave the diagnosed schizophrenic killer a job working alone with a female civilian.
"Somebody needs to hold them accountable," said Carl Toersbijns, who was a former state deputy warden in the Arizona prison system and has more than two decades of experience in the industry.
He said the safety of the woman was compromised because the state ignored safety standards endorsed by former Gov. Janet Napolitano.
The 2004 standoff was one of the longest in the history of U.S. prisons.
Inmates Ricky Wassenaar and Steven Coy held two women hostage, repeatedly raping and assaulting them for 15 days.
One of the victims, a contractor, sued the state for letting violent offenders work with civilians, and won a nearly $1 million negligence settlement.
The state also adopted 70 so-called Blue-Ribbon panel recommendations, including this provision:
"Dangerous inmates should be limited in their work assignments, and inmates with life or long-term sentences should be strictly limited in their range of job duties."
Arizona Department of Corrections Director Charles Ryan said that to him that means inmates currently serving life or long-term sentences can still be assigned to duties such as what Jimenez was working.
Ryan said the worst criminals sometimes make model citizens in his prisons. Because of that, ADC assigns jobs giving the most weight to good behavior behind bars.
The prison has the discretion to override inmate classifications based on things such as immigration status, which they did with Jimenez, and mental health, which they did not in his case.
"He committed a total of three violations in about 26 years and none of those had anything to do with violence," Ryan said.
"The inmate's objective was to be transferred," he said.
Toersbijns said forget the motive. The intentions of a desperate man who's killed before should not be second-guessed.
"A lot of the recommendations that were made by the Blue-Ribbon panel, implemented by the former governor and former director (Dora Schriro), have been watered-down to put lifers and other high-risk inmates into these jobs that were once excluded in that criteria. So I'm a little bit puzzled," he said.
It boils down to a difference of interpretation in what the Blue-Ribbon Panel meant when it recommended inmates with life or long-term sentences should be "strictly limited" in their range of job duties.
Ryan said that to him, that just means no jobs should be assigned outside his prison walls.
He said ADC is obligated to hold inmates in the least restrictive environment possible and to attempt to provide them with work opportunities and programming that keeps them productive.
He said they've had very few incidents with inmates working with civilian contractors in the kitchen and other assignments, even with lifers at their super-max lockups, assigned to the industrial yard where there's access to weapons.
But here's the difference: All those jobs have corrections officers assigned to supervise.
The inmate store in the Lewis facility does not.
The store is a 5-by-8-foot room with a single door leading to the yard.
"They're left alone. The store manager or keeper is the officer of the day," Toersbijns said.
He said safety lapses like the hostage standoff three months ago, ADC going against big-dollar settlements and state-sanctioned recommendations are evidence of mismanagement in Arizona prisons.
A 2011 report by the Office of Inspector General and ADC shows homicides are more than double the national average, assaults at the prison have almost doubled and suicides have almost tripled since Ryan became director in 2009.
"Taxpayers need to wake up and realize a billion dollars is being spent on prisons that aren't getting any better," Toersbijns said.
Ryan was offended by the suggestion, and said he takes the Blue-Ribbon Panel recommendations seriously.
"The department of corrections is accountable and responsible for what we're doing," Ryan said.
To its credit, the state sent a letter to the National Institute of Corrections asking it to review and validate ADC's inmate classification for job assignments.
As for Jimenez, he ultimately got his wish: He was transferred to the maximum security sex offender yard at the Eyman complex in Florence.
Copyright 2012 KPHO (Meredith Corporation). All rights reserved.