Dirty Dining, June 14; Country music star's restaurant tops list
Posted:
Updated: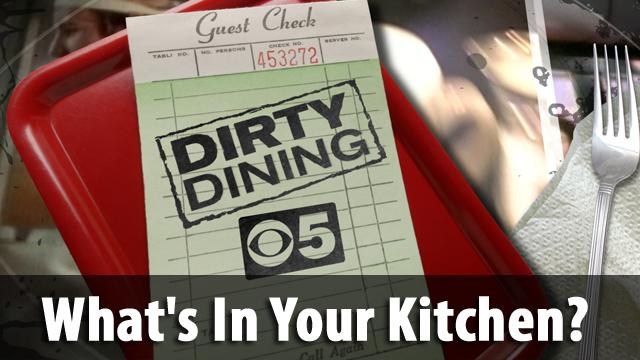 PHOENIX (CBS5) -
Every week CBS 5 News is sent a list of restaurants that have been recently inspected by Maricopa County's Environmental Services Department. CBS 5 News selects five restaurants with some of the highest number of "Risk Factors." According to health inspectors, risk factors are considered major health code violations. For more details on the restaurant inspection scoring system visit http://www.maricopa.gov/
Lee Lee Market
7575 W. Cactus Rd.
Peoria
6 major violations
NY Bagels N. Bialys
10320 N. Scottsdale Rd.
Scottsdale
6 major violations
Iron Chef
10810 N. Tatum Blvd.
Phoenix
7 major violations
Humberto's Taco Shop
12125 NW Grand Ave
El Mirage
8 major violations
Toby Keith's I Love This Bar
1065 N. Dobson Rd.
Mesa
8 major violations
Dean's List – Those with perfect scores
Peter Piper Pizza
12851 W. Bell Rd.
Surprise
McDonalds
7017 N. Litchfield Rd.
Glendale
Mesquite Grill
75 W. Baseline Rd.
Gilbert
California Pizza Kitchen
2400 E. Camelback Rd.
Phoenix
Islands Fine Burgers
12811 N. Tatum Blvd.
Phoenix
Boston Market
1804 E. Elliot Rd.
Tempe
Copyright 2012 KPHO. (Meredith Corporation.) All rights reserved.