Goldwater again challenges Coyotes deal
Posted:
Updated: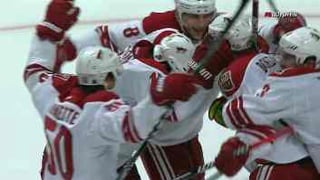 PHOENIX (CBS5) -
The Goldwater Institute filed a lawsuit on Wednesday aimed at invalidating last week's Glendale City Council vote allowing the city to enter into an agreement with the potential buyer of the Phoenix Coyotes professional hockey team.
The Goldwater Institute's lawsuit alleges that the city is in violation of Arizona's public records and open meetings laws for not disclosing two exhibits in the proposed deal. The suit also alleges that the city violated its own charter by casting a vote on a proposed arena management agreement without putting the contract out to bid.
The court denied the Goldwater Institute's earlier motion for a temporary restraining order, but warned Glendale officials that the council's pending vote could jeopardize the validity of the arena management agreement.
The City Council voted Friday afternoon to approve the agreement without disclosing the exhibits in question, prompting the Goldwater Institute's new lawsuit.
"I think sanctions are in order," Maricopa County Superior Court Judge Katherine Cooper said. "The court couldn't have been clearer back in July 2009 with respect to when these documents were supposed to be disclosed."
At the time of the vote the city had not made public the two requested exhibits in the proposed deal that would commit city taxpayers to foot a $425 million bill over the next 20 years.
"Without seeing critical exhibits contained in the arena management agreement, such as the arena annual budget or the arena management performance standards, it is not possible to determine the constitutional validity of the agreement," Goldwater Institute President Darcy Olsen said.
If the Goldwater Institute wins the lawsuit, Glendale officials will be required to pass any agreement only after fully disclosing the details to the public.
Copyright 2012 CBS 5 (Meredith Corporation). All rights reserved.