TELLING IT LIKE IT IS
PD: Teen fight clubs popping up in Phoenix area
Posted:
Updated: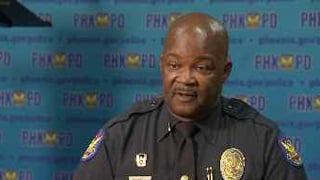 Officer James Holmes
PHOENIX (CBS5) -
It's a fad that could get someone killed. Police say teen fight clubs are popping up all over the Valley.
Video posted to YouTube shows teens throwing punches at Momo Park near Fifth Street and Sunland in Phoenix. One boy was hit so hard he was knocked out cold.
Neighbors who didn't want to go on camera for fear of retaliation told CBS 5 this happens twice a week.
But it doesn't always stop with kids duking it out. It can get even more heated. Two gunshots can be heard in the background of one video before the mob finally breaks up.
Police say this kind of violence is popping up all over Phoenix.
"They're all around the high schools, and don't think that it's just south and west, because it's happening up north," said Phoenix police Officer James Holmes.
In the video, you can hear some teens yelling out the names of area street gangs. Holmes said the city's gang task force is investigating.
"We're not saying that it's gang-related. There are a lot of times when things happen, especially with our youth, when they will tag or show or yell out a street gang sign when they aren't necessarily affiliated. Having said that, we have to assume if that's their mindset, we have to treat it that way," said Holmes.
Police told us they plan on stepping up patrols in the Momo Park neighborhood.
Copyright 2012 KPHO (Meredith Corporation). All rights reserved.