PD: AZ baby locked in hot truck soaked in sweat
Posted:
Updated: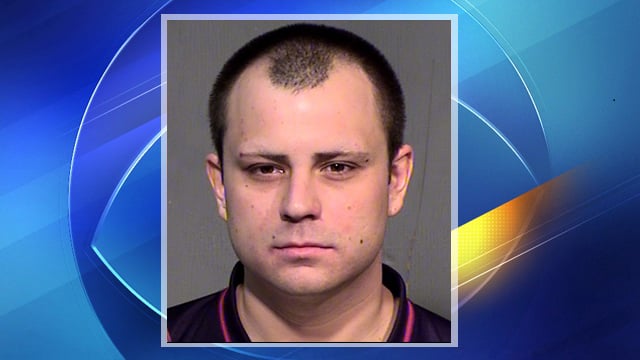 David Seimon
MESA, AZ (CBS5) -
A 5-month-old baby was left alone in a hot truck and sitting in a car seat with the doors locked, windows rolled up and the engine turned off, Mesa police said.
Officers said the infant, Carolyn Seimon, was soaked in sweat and crying when they saw her father, David, 27, emerge from an apartment at 6554 E. University Dr. and unlock the vehicle.
Police arrived at the scene at 8:40 p.m. Sunday. They were waiting for the fire department to show up with tools to open the truck when David Seimon appeared, along with his 2-year-old son Calvin, in the parking lot at about 8:45 p.m.
David Seimon told officers he spent five minutes inside seeing his friends and getting a drink.
Officers said they could smell "an overwhelming odor of marijuana coming from the apartment Seimon had left."
Seimon claimed he kept an eye on his locked-up baby through the window, officers said.
During a police interview, Seimon said he didn't forget Carolyn was in the vehicle but didn't want to wake her up from her sleep.
Police noted the baby was in a car seat that is designed to be removed from a vehicle with a child in it.
When asked about why he didn't take the baby with him into the apartment, Seimon said he did not think he'd be inside for very long.
Seimon claimed he consciously thought about the cabin's temperature, but believed it to be around 80 degrees inside the truck, police said.
Seimon was booked into jail on one count of child/vulnerable adult abuse.
Court documents indicated that if Seimon was released and looking a prison sentence, he would flee the country.
Copyright 2012 CBS 5 (Meredith Corporation). All rights reserved.