Parents, school at odds over bathroom use policy
Posted:
Updated: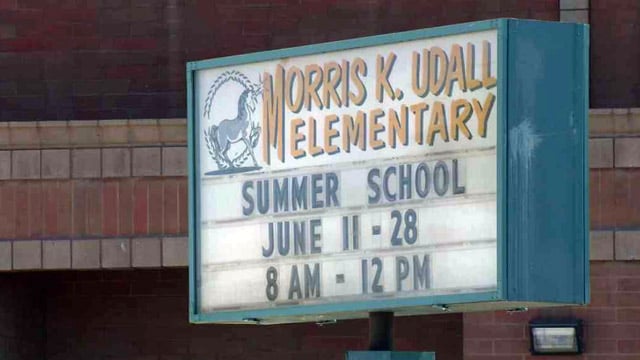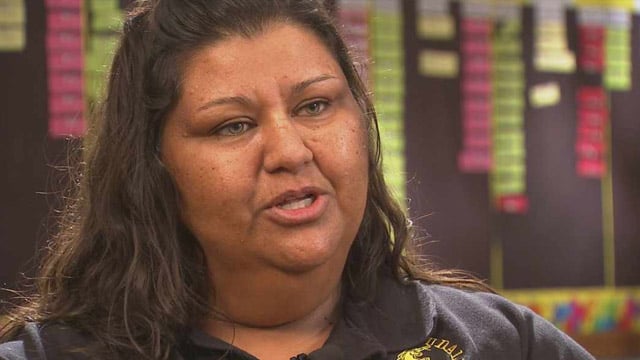 School Principal Amanda Guerrero denies the school has a written policy limiting when students can use the restroom during the school day.
PHOENIX (CBS5) -
Most kids worry about their homework being done, what's for lunch, pop quizzes or whether they will have PE.
But some parents and students at Morris K. Udall Elementary in Phoenix are finding themselves distracted from their studies by what they claim is a school policy that prevents students from going to the restroom when it's necessary.
"They'll just say, 'Wait.' They'll say, 'Wait, wait, wait'," said Steven Alejandre, a 10-year-old fourth-grade student.
Steven said he takes medication that makes him go to the bathroom "a lot."
"When I need to go to the bathroom a lot and when I tell the teacher I need to go to the bathroom, she's like, 'Wait.' And I'm like, 'I can't wait. Can I still go, please?' And she's like, 'No, no, no, wait the restrooms are still locked.'"
Steven is not alone in his concern as to whether the school in Isaac District No. 5 will allow them to go No. 1 or No. 2.
"If we already used the restroom, once a day we'll get in trouble," said student Marisa Zermeno, 13.
"I hold it so much, I feel like I gotta go," said third-grader Christopher Sanchez.
"It's not fair 'cause when I got to go, I got to the restroom," said Robert Monreal, 12.
They all said they are not allowed to ask to use the bathroom more than once a day, a claim Principal Amanda Guerrero denied.
"We obviously don't deny access to the bathroom," Guerrero said.
But parents said they have been battling the school and the district on this issue all school year.
"Children have urinated their pants. Children are getting urinary tract infections. My daughter has a kidney disease," said Christine Zermeno.
"What worried me one day, my 10-year-old came home and had a rash," Esmerelda Alejandre said.
The rash, she said, was the result of her Steven wetting his pants at school because he couldn't go to the restroom.
And then it happened to her 12-year-old son, Alejandre said.
"Within a few days he started complaining about burning sensations, burning, burning," Alejandre said. "I took him down to the pediatrician - urinary tract infection."
Guerrero denied that the school has a written bathroom policy, but did say that bathroom breaks are often supervised.
Guerrero also admitted certain restrooms - and sometimes all of them - are locked during the school day.
"We want to make sure not only that students are safe in the bathroom, but that they're not where they're not supposed to be for safety reasons," Guerrero said.
Guerrero said the health of students is important to the school, which has students between 4 and 14 years of age.
"Absolutely, and that's why they have access to the restroom at all times," Guerrero said.
Guerrero said students can use the nurse's restroom any time and that restrooms near the cafeteria are unlocked part of the day.
So for 715 students there are one boy's and one girl's bathroom unlocked between 10:30 a.m. and 1:30 p.m., Guerrero said.
"But 715 students are not needing to use the restroom at one time," Guerrero said.
Doctors told CBS 5 News there can be serious health consequences if a child holds it for too long.
"The consequences can be affecting them long after their school years," said Phoenix pediatrician David Lersch.
Lersch explained there can be both psychological and physiological problems.
"We do see children that when they're being forced to hold their urine or stool, they have stretching and then it can definitely lead to ongoing issues for a long period of time," he said.
CBS 5 News spoke with school staff members and more than a dozen parents, and students, including some contacted by randomly knocking on doors in the school's neighborhood.
All of them told the same story.
Guerrero acknowledged the story she was telling was in direct contrast to those of the students and their parents.
"Absolutely, and that's why I would encourage these students to come and talk to me," Guerrero said.
But in the eyes if a 10-year-old, the solution is a simple one.
"The kids should go to the bathroom when they need to," Steven said
CBS 5 Investigates learned that most the schools in the Isaac School District lock certain restrooms during the school day to prevent graffiti and encourage learning. But district officials, like Guerrero, adamantly denied any child is restricted from using the restroom.
Copyright 2012 CBS 5 (Meredith Corporation). All rights reserved.