ADOT warns drivers of approaching monsoon season
Posted:
Updated: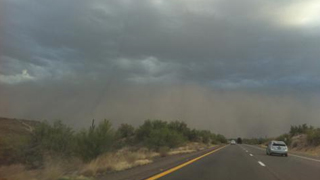 © CBS 5
PHOENIX (CBS5) -
Dust storms come and go quickly, sometimes leaving behind multiple car pileups on freeways. State agencies are looking to spread the message to avoid more fatalities on Arizona freeways.
"If you find yourself in that zero or low visibility situation, what you really want to do is pull as far right as possible and that includes getting off the pavement," according to a PSA released Monday as part of an educational campaign by the Arizona Department of Transportation.
They said the goal is to reach as many drivers as possible, letting them know what to do in case they find themselves driving through a dust storm.
The storms, or haboobs as they are called, can cause chain reaction crashes. The goal this year is to minimize the crash impact these intimidating storms can cause in just a matter of seconds.
The Arizona monsoon season officially gets under way Friday.
Copyright 2012 CBS 5 (Meredith Corporation). All rights reserved.