UPDATE
Mechanic dies from burns in truck fire
Posted:
Updated: June 7, 2012 10:48 PM MST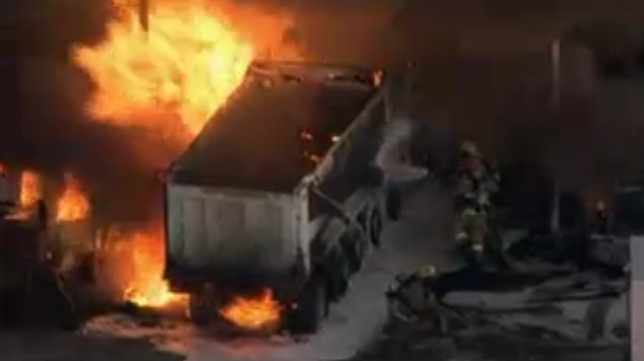 © CBS 5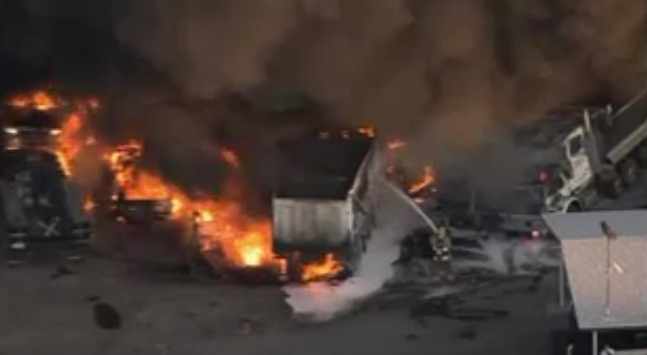 © CBS 5
PHOENIX (CBS5) -
A mechanic has died from severe burns he suffered after a truck he was working on caught fire at a Phoenix business Thursday night.
Bob Boyle, who was described in his 50s, suffered burns over 90 percent of his body and died overnight, according to Michael Murphy with Maricopa Medical Center.
The fire started at about 7:15 p.m. Thursday at M & P Contracting, near 28th Avenue and Osborn Road.
M & P Contracting offers trucking and hauling services in Phoenix and surrounding cities, according to its website.
Scott McDonald, with the Phoenix Fire Department, said the blaze started when Boyle was working on a dump truck at the business.
"This is a big shop full of transmission fluid, oil drums, 55-gallon drums of solvents, break cleaners, everything you could imagine in a mechanic type of shop. Once that flashed, then the rest of the shop got going," McDonald said.
Fire officials moved people a block away from the fire for fear of explosions.
Multiple trucks were burned.
No other buildings were damaged.
McDonald said he has no cause yet on the fire.
Stay with cbs5az.com and CBS 5 News as this story develops.
Copyright 2012 CBS 5 (Meredith Corporation). All rights reserved.