Pay it Forward: Valley grandmother dying of cancer gets special gift
Posted:
Updated: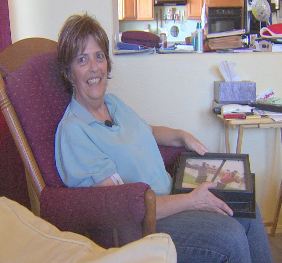 © CBS 5
MESA, AZ (CBS5) -
Valorie Hall-Budo is all about family, and if you don't believe her, the proof is in the pictures hanging up all over her house.
"I have five daughters and 15 grandchildren," Hall-Budo said.
This summer, her entire family is getting together for a big reunion in Colorado, but sadly the Mesa grandmother has made no plans to attend.
Finances have been tight, and Hall-Budo's health is not so good.
Her 10-year battle with cancer has taken a wrong turn, and doctors have told Valorie she doesn't have long to live.
That is why a family reunion about now would mean so much.
"It would be extremely special," said Hall-Budo. "There's a lot of family out there. I need hugs. I need a lot of hugs."
Cheri Kenyon has known Hall-Budo for almost 10 years and considers her the kindest, most generous person she's ever met.
"She told me at one point that she was more worried about me and how this was going to affect me, having lost my mother as a little girl, she's worried more for us and the kids," said Kenyon.
Kenyon did the math and figured it would cost about $400 to $500 for Hall-Budo and her husband to get up to Colorado for this summer's family reunion.
So she wrote in to CBS5, hoping to Pay it Forward to Hall-Budo.
"Just one more time to get together with everybody and laugh instead of be sad," said Kenyon. "That's what she's all about."
Kenyon went to Hall-Budo's house and read her the letter she had sent to CBS5:
"She truly is the best person I have ever known, and this world is a better place because she is in it. I can't think of a more deserving person. Please help me reunite her with her family this summer. It may be the last chance she has."
It didn't take long for family members to start getting the news that Hall-Budo can now RSVP "yes" to this year's reunion.
If you ask Hall-Budo, she has every intention of attending the next family reunion two years from now.
"I still have a lot to live for," said Hall-Budo.
Copyright 2012 CBS5 (Meredith Corporation). All rights reserved.