UPDATE
Conditions ripe in Arizona for fast-growing wildfire
Posted:
Updated: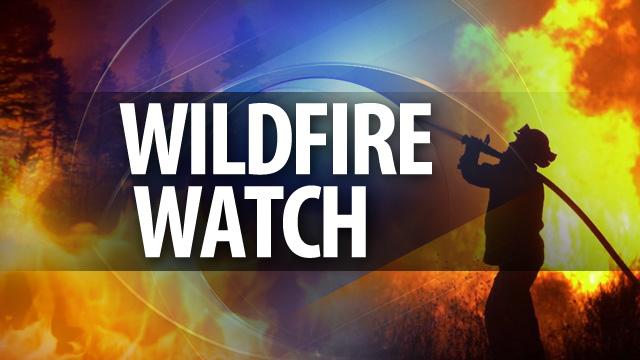 © CBS 5
FLAGSTAFF, AZ (CBS5/AP) -
The National Weather Service has issued a red-flag warning for most of northern Arizona on Tuesday.
A red-flag warning happens when winds and temperatures are high and the relative humidity is low.
If a wildfire is sparked in such conditions, it can grow rapidly out of control.
The red-flag warning will take effect at 9 a.m. and last until 9 p.m., and includes Prescott, Flagstaff, Kingman, the Grand Canyon, the Mogollon Rim and most of the rest of northern Arizona.
Meteorologists are predicting winds between 20 and 30 mph, with gusts up to 40 mph.
In the Coconino National Forest, officials plan to impose additional fire restrictions beginning Wednesday at 9 a.m.
Rangers cited extremely dry vegetation and a high fire danger as reasons for the move.
Fires, campfires, charcoal, coal or wood stoves will continue to be prohibited in the forest, including in developed campgrounds.
The restrictions also limit smoking to within enclosed vehicles or buildings. Fireworks are always prohibited on National Forest System lands.
Additional restrictions prohibit:
Chainsaw use from 9 a.m. to 8 p.m.
Discharging a firearm unless engaged in a lawful hunt.
Wielding or operating acetylene or other torch with open flame.
Use of explosives.
Using any internal or external combustion engine without a spark arresting device properly installed, maintained and in effective working order.
Pressurized liquid or gas stoves and lanterns that can be turned off are allowed.
The fire restrictions will remain in place until Aug. 1 or until ordered lifted.
Anyone caught violating the restrictions can face a fine of not more than $5,000, imprisonment for not more than six months or both.
Elsewhere, the Apache-Sitgreaves National Forests will implement a temporary safety closure on Friday in the areas of the 2002 Rodeo/Chediski fire, Show Low South and the Timber Mesa.
The Rodeo-Chediski fire area affected the western portion of the Lakeside Ranger District and the eastern portion of the Black Mesa Ranger District. Since that time, grass and dead rotting pine trees have become the major fuel bed, rangers said.
An area known as Show Low South adjacent to The Rodeo-Chediski is also at risk of a severe wildland fire moving into a highly populated Wildland Urban Interface Area. The Interface area will be closed south of Arizona State Highway 260.
A communications site at the top of Porter Mountain is situated in the closure area.
Copyright 2012 CBS 5 (Meredith Corporation). All rights reserved. The Associated Press contributed to this report.