Bear hunter talks about search for black bear near Payson
Posted:
Updated: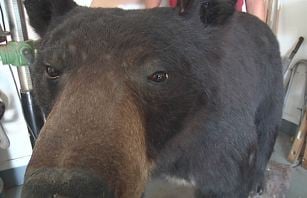 CHANDLER, AZ (CBS5) -
How tough is it to catch a bear in the middle of the wilderness?
We caught up with a bear tracker who knows his stuff. Andy Salazar has been hunting Arizona's wildlife for 35 years. He showed us home video of him and his Coonhounds hunting a mountain lion back in 2003.
"I killed this with a bow and arrow," he said while standing in front of an adult Arizona black bear. He said hunting those is his specialty.
He says the hunt for a black bear near the Payson area right now is a "difficult situation." Salazar said finding bear tracks in the pine needles can be tough.
"They might see a toe, they might see the claw, initially that helps a lot because that shows you are going the right way on the track," he said.
But it's the Coonhounds that probably picked up the bear's scent at the campground where it was last seen that he says will help the most.
"It's a while, different type of hunting and you are relying on a dog's nose," he said.
But the lean sniffing machines have a battle of their own, Salazar said. "Once the sun starts coming up, the track is going to be very hard for the dogs to sniff. It's going to dissipate."
He said this makes morning and night the best times to search.
"You have a miner's light and flashlights," Salazar said.
He said running 20 or even 30 miles in a day is nothing for the bear, but Salazar believes it will probably keep circling back near the Ponderosa campground where it thinks it can find food.
Copyright 2012 CBS 5 (Meredith Corporation). All rights reserved.