SEE THE BACK STORY
Congressional battle heats up over 'Spygate'
Posted:
Updated: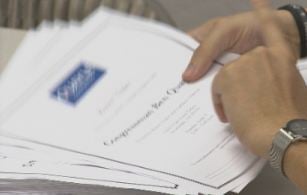 PHOENIX (CBS5) -
The race for congress in District 6 is heating up, but not in the way you might imagine.
Congressman Ben Quayle is accusing Congressman David Schweikert of sending a spy into Quayle's Phoenix campaign office last week.
"I just thought this was really juvenile tactics," Quayle said.
He told a CBS 5 News team that a woman came into the campaign headquarters and asked to be a volunteer last week, but that his staff members noticed the woman put down an address to the Islamic Community Center in Tempe for her home address and asked to be shown around the office.
Quayle said someone from his office went to Schweikert's headquarters on a hunch after the woman left, found the potential volunteer's car in the parking lot and found her sitting inside at the front desk.
"Right when they walked in, they noticed the person was there, they said, 'Oh, we're busted,'" Quayle said.
Quayle said they filed a police report they next day because they also found more than a dozen Quayle campaign signs inside Schweikert's office.
Schweikert's campaign wouldn't go on camera, and instead sent the following statement:
"We are not surprised that Mr. Quayle, who has a well-documented history of misleading both voters and the media about his Dirty Scottsdale escapades, would contrive such a story and implicate and slander an underage volunteer in our campaign. That is about par for course for Mr. Quayle and his campaign."
Copyright 2012 KPHO (Meredith Corporation). All rights reserved.