Gladiator Fire threatens hundreds of homes
Posted:
Updated: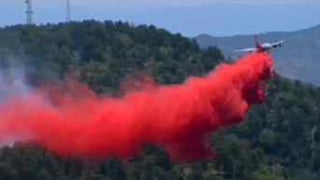 Gladiator Fire
MAYER, AZ (CBS5) -
The winds picked up Tuesday for fire crews battling the Gladiator Fire north of the Valley, helping push the fire away from Crown King and Senator Highway, but not abating the potential danger to hundreds of homes.
"We just want to go home. We're just tired," said Dan Donahue, who lives about a quarter of a mile from where the fire started.
He and many other evacuees come to these nightly briefings to learn the fate of their towns.
"You worry about your friends that you haven't seen in 10 days," he said.
Even though the winds picked up, firefighters report containment was at 26 percent.
But there was bad news, too. Hundreds of homes remain threatened, and if the fire crosses Senator Highway, thousands might be in danger. That's because the fire would then head into forest and it would be even harder to stop before it made its way into more communities such as Groom Creek and Prescott.
But fire officials said that's a long way out.
"Groom Creek is over 10 air miles from the north end of the fire, so it'd be a long time before they'd be in trouble," said information officer Art Morrison.
As of Tuesday night, the wildfire had blackened a total of 15,622 acres.
In the meantime, four of six air tankers helping battle the fire have been moved to other fires near Globe, Sierra Vista and Nevada.
"It's based on a need-basis. We haven't needed them as much. Four of them just got repositioned," he said.
So how can a fire that's putting more than 1,000 people and 10 helicopters to work not need air tankers? CBS 5 News is told it's because the fire is behaving the way they want it to, for now.
"If it's spotted over Senator Highway on the other side, the west, then we have a need," he said.
The winds are supposed to pick up even more this week so fire crews said they hope it'll continue to push that fire away from Crown King and away from Senator Highway.
Copyright 2012 CBS 5 (Meredith Corporation). All rights reserved.